August 15, 2023
Posted by:

kevbha

Category:

News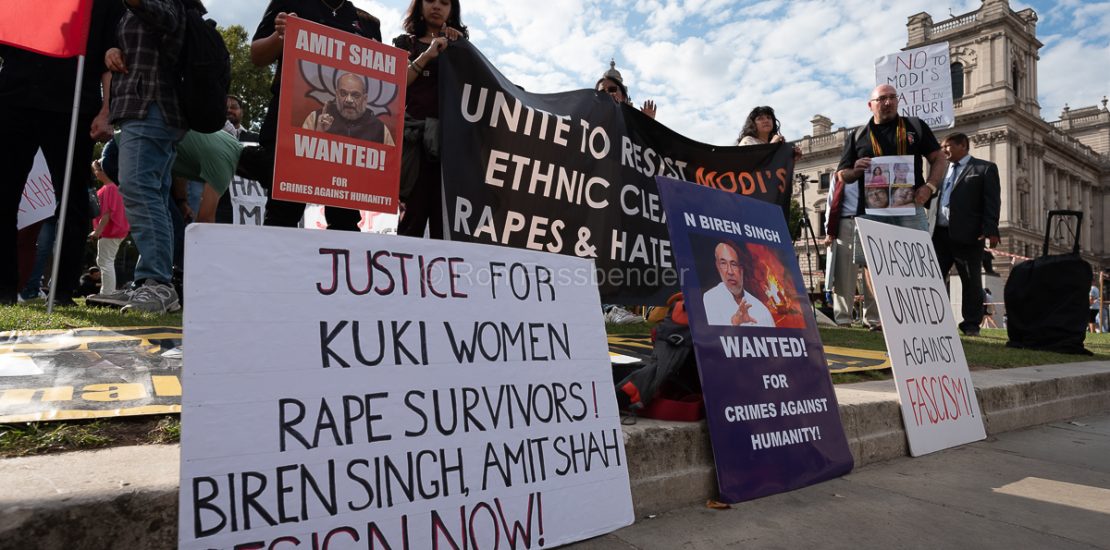 Diaspora protests in London against attacks on minority women and ethnic cleansing in Manipur, Haryana and beyond on Indian Independence Day
At least eleven of the UK's leading Indian diaspora groups, including diaspora organisations from Manipur, alongside several key feminist organisations and a number of Members of Parliament, came together in London on India's Independence Day to protest against targeted sexual attacks on minority women, systematic ethnic cleansing, and hate-inspired killings being orchestrated by the current Modi regime, with a particular focus on recent events in Manipur and Haryana. They also delivered an open letter to the President, in which they urged her to take action to ensure justice for the victims and survivors of sexual violence against minority women, and called for a number of measures to be undertaken urgently.
The angry and vocal protest took place in Parliament Square opposite the Houses of Parliament in Central London on 15 August. Among numerous speakers, Kailean, Chair of Unau Welfare UK, an organisation representing members of Manipur's tribal communities in Britain, including some who have been forced to flee as a result of the recent BJP-orchestrated conflict in Manipur, spoke powerfully of his anguish at the horrific violence against Kuki-Zo women, the ethnic cleansing faced by the tribal communities in which state forces were colluding, and the silence of the central government. He highlighted that the government's drive to control natural resources was a cause of the violence, and strongly rejected the state's attempts to brand Kukis as 'foreigners'. Claudia Webbe, MP for Leicester East, described the naked parading, gangrape and murders of Kuki-Zo women, in which the police collaborated, as cruel and horrifying, noting that the language of ethnic cleansing and annihilation is in use in Manipur and the world must not turn away. Mukti from South Asia Solidarity Group, which called the protest, linked the terrible incidents in Manipur with the targeting of minoritized women for sexual violence elsewhere in India under the BJP. She pointed out that Bilkis Bano had to wage a courageous campaign to bring those who gang-raped her during the Gujarat genocide to justice, but just one year ago, last Independence Day, the Modi government approved the early release of the rapists and they were welcomed with garlands by the VHP. In Hathras, the Yogi Adityanath government went to extreme lengths to shield the oppressor caste men who gang-raped and murdered a 19-year-old Dalit woman. In Kathua, the BJP held marches in support of those who gang raped and murdered eight-year-old Asifa. This hideous misogyny against Muslim, Christian, Dalit and Adivasi women and girl children she said, is inseparable from the rise of fascism and the terrifying spectre of ethnic cleansing and genocide. She said that people must choose between the visions of independence of Ambedkar, Bhagat Singh and of Mohammad Saad, the 22 year old Naib Imam murdered in Gurgaon who had recorded the prayer, 'Hindu-Muslim baith ke khaye ek thali mei, aisa Hindustan bana de ya Allah' (Ya Allah let there be an India where Hindus and Muslims sit together and eat from the same plate') and on the other hand the exclusionary fascist vision of Hindutva.
Taranjit Chana of Million Women Rise called on feminists everywhere to rise in rage against the state-sponsored attacks, naked parading, gang rapes and threats to women particularly in Manipur but also elsewhere in the country, saying that 'we are anguished, pained, and enraged to see that a country which calls itself a democracy inflicts such violence against women". Satpal Muman, Chair of the UK's largest Dalit organisation CasteWatch UK stated that from Manipur to Haryana, mob-lynchings, rapes and murderous attacks on minorities and progressive forces and suppression of dissent have become an everyday occurrence in India under the BJP. The world needs to wake up and take serious note of the 'world's largest democracy' under the shadow of majoritarianism turning into a terrorist state, he said. Mohammed Owaise of the umbrella group UK Indian Muslim Council also expressed his solidarity with the Kuki-Zo people and highlighted that Hindutva activities extend even beyond India, with hate preacher Dhirendra Shastri recently visiting Leicester and calling for India to become a Hindu state, following which he was shamefully presented with an award for 'services to the community' by Leicestershire Police!
The protest also heard messages of support from Labour MPs John McDonnell, Stephen Timms and Apsana Begum. The latter wrote that the attacks on Kuki-Zo women were a reminder of the use of violence against women's bodies as a strategy in intimidation and oppression, that the use of rape, degradation and violence towards minority women was reflective of the oppressive anti-minority politics of the current BJP regime and that this had emboldened Meitei militias Manipur to commit these horrific crimes, while any kind of accountability or justice had been hampered by the internet blackout in Manipur.
(This report first appeared in Liberation, September 2023 issue)