April 1, 2018
Posted by:

admin

Category:

News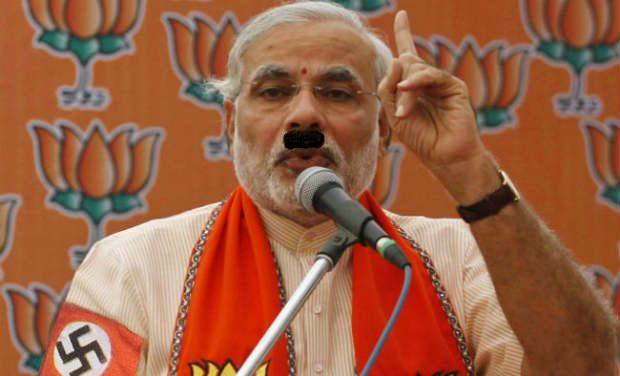 Indian Prime Minister Narendra Modi is visiting the UK in April for the Commonwealth Heads of Government Meeting (CHOGM) taking place from 16-20 April.
Protest his visit on Wednesday 18 April 2018, 12pm outside Downing Street.
Who is Indian Prime Minister Narendra Modi, and why are we protesting his visit? (click here for protest details)
Narendra Modi is a lifelong cadre of the Rashtriya Swayamsevak Sangh (RSS), a Hindu supremacist paramilitary organisation modelled on the Nazi and Italian Fascist parties. It was founded in the 1920s in opposition to Indian independence. Its revered leader M.S. Golwalkar notoriously viewed Hitler's treatment of the Jews as a model of 'race pride' which India should copy in its treatment of minority groups. The RSS is the core of a family of organisations which includes the BJP, currently India's ruling party. Their fascistic ideology aggressively promotes attacks on Muslims and other religious minorities, Dalits, women and sexual minorities. The Left and other dissidents are demonized and targeted as 'enemies of the nation'.
Overseeing genocidal attacks and mob lynchings against religious minorities
In 2002, as Chief Minister of Gujarat, Modi presided over the genocidal attacks in which over 2,000 people from Gujarat's Muslim minority community were systematically killed, and 200,000 displaced. Women and children were specifically targeted for horrific violence in the pogrom. There is clear evidence that the violence was orchestrated and sponsored by Modi's state government
Since Modi became Prime Minister of India in 2014, he has facilitated an epidemic of mob lynching in which Muslims have been the main target. Whether the pretext has been claims of eating beef, cattle trading, so-called 'love jihad' or simply travelling while Muslim, these murders have been instigated and organized by the network of vigilante groups and paramilitaries linked to Modi's BJP government and the RSS. Those who have been brutally murdered range from 15-year-old Junaid beaten to death in a train in UP, to Pehlu Khan lynched by cow vigilantes on a Rajasthan road. On December 6 2017, millions of people witnessed the horror of Afrazul Khan, a migrant worker from Bengal, being hacked to death and burnt alive in Rajasthan, with the carnage being sickeningly videoed and circulated online by the perpetrator and his 14-year-old nephew. There were celebrations of his crime and the protests against his arrest organized by the Hindu right wing organizations; chillingly the murder was clearly pre-planned to take place on the anniversary of the demolition by RSS footsoldiers of the historic 16th century Babri Masjid (mosque) in 1992.
Modi has also encouraged violent attacks on Christians which have involved brutal assaults on churches and pastors, with the authorities colluding in the persecution of people celebrating Christmas in BJP-ruled Madhya Pradesh, where carol singers were first attacked by Hindu right-wing groups and then arrested by the police.
Promoting caste hierarchy and attacks on Dalits
The BJP/RSS has an avowedly caste supremacist ideology and Modi has presided over intensified attacks on Dalits, and brutal attempts to crush their ongoing resistance to caste oppression. In Uttar Pradesh where the rabidly communal and casteist hate preacher Yogi Adityanath was made Chief Minister in March 2017, we witnessed the burning of Dalit villages and the sexual assaults on Dalit women by upper caste mobs in Saharanpur. This was followed by the arrest of Chandrashekhar Azad (Raavan) the leader of the Bhim Army, a Dalit Human Rights Group. While Chandrashekhar Azad was granted bail by the Allahabad High Court on November 2, with the court observing that charges against him were "politically motivated" , the very next day the Uttar Pradesh government slapped the National Security Act (NSA) against him in an effort to silence him. Meanwhile in BJP-ruled Gujarat, Dalit rights activist and elected representative (MLA) Jignesh Mevani is facing public death threats from senior police officers.
In January 2018, Hindu right wing terror groups carried out attacks on thousands of Dalit families who had gathered at Bhima Koregaon village in Maharashtra to commemorate the 200th anniversary of a battle which is central to Dalit identity.. Instead of arresting the key organisers of this violence (one of whom is a close associate of Modi) the police have carried out a witch hunt of  Dalit youth and children.
Assassinating dissenters and silencing critical media
The Modi government is ruthlessly seeking to silence all those who dissent from its agenda of creeping fascism.  The cold-blooded assassination on 5 September 2017 of the courageous journalist Gauri Lankesh in Bangalore, who had fearlessly criticized and exposed the BJP and its associated groups, by Hindu right wing hit squads, brought thousands onto the streets in mourning and protest. This followed the earlier murders of rationalists Narendra Dabolkar, Govind Pansare, and MM Kalburgi by the same organizations. While the mainstream media have become loyal mouthpieces for the Modi government, whipping up hysteria against all those who criticize the government and labeling them 'anti-national', alternative critical media outlets like The Wire have been threatened with massive lawsuits when they expose the terror unleashed by the Modi regime and its endemic corruption.  Activists fighting communal (religion-based) violence like Teesta Setalvad have faced continuous persecution by the state.
Undermining the Judicial System
Modi and his associates have blatantly undermined the judicial system – as in the suspected murder of Justice Loya, the judge who dared to insist that Modi's right- hand man Amit Shah appear in court in the Sohrabuddin murder case. Interference by the Modi-appointed Chief Justice in the investigation of Justice Loya's death led four of the five senior-most Supreme Court judges to take the unprecedented step of holding a press conference to  warn of the 'danger to democracy' posed by the Modi government. Recently the testimony of Swami Aseemanand giving key evidence of the terrorist activities of the RSS including the 2007 bombing of the Mecca Mosque in Hyderabad, has been 'lost' by a lower court.  Meanwhile, BJP leaders have openly stated their intention to get rid of the Indian Constitution drafted by Ambedkar and its basic principles of liberty, equality and fraternity, replacing it with the caste supremacist and misogynist principles of the ancient Manusmriti!
In Kashmir, where the people have long been fighting for their right to self-determination in the face of acute state repression and military occupation, atrocities have further escalated. The BJP, now also sharing power in Srinagar, has shed all pretence of constitutional governance, treating Kashmiris as virtual prisoners of war, and even a tentative recognition of the humanity of Kashmiri youth by a government official  is treated as seditious. When a police officer, Deepak Khajuria, was arrested as the main accused in the rape and murder of an eight-year-old girl, Asifa Bano, part of a conspiracy to drive the Muslim Bakarwal community which Asifa belonged to from their homes, there were protests and violence by the BJP-backed Hindu Ekta Manch demanding his release.
Modi claims to be a 'nationalist' but only to silence his own people or threaten neighbouring countries. He is eager to welcome global corporates such as notorious mining conglomerates Rio Tinto and BHP Billiton to plunder India in the 21st century. Under Modi, multinational corporations including many registered in London such as Vedanta and Essar Energy are siphoning money and resources out of the country, grabbing huge swathes of land and forests and displacing the people who live there, (particularly targeting Adivasis or indigenous people) and destroying the environment. Laws protecting workers are being abolished and communities which resist are being terrorised not only by the police and paramilitaries but by state – and corporate – sponsored militias.
Friend of Trump and Netanyahu
Under Modi, India has moved closer to the US and Israel – which is providing weapons for intensified state terror in Kashmir – and aligned itself fully with the 'War on Terror'. India is the world's biggest importer of arms, buying a massive 13% of global arms imports and 41% of Israeli total weapon sales. Israeli weapons and 'counter- terrorism' training are being used to kill unarmed civilians, particularly in Kashmir, but also in India's North Eastern states and on striking workers across the country. Like Israel, Modi's India is also deeply involved in military collaboration with the US under Trump. Modi  has signed an agreement allowing the US to use India's land, air and naval bases for supplies, services and refuelling. Modi is leading India into America's war in Afghanistan and  escalating hostilities with China, whom Modi sees as India's enemy. Indian Air Force fighters are scheduled to join Israel and five NATO Air Forces in the so-called Blue Flag joint air force exercises, the first time that the Indian military will be publicly holding such manoeuvres with their Israeli counterparts.
Who is Welcoming Modi to Britain?
The Hindu Right has a network of organizations in the UK, including the Hindu Swayamsevak Sangh (HSS – the British wing of the RSS) the National Hindu Students Federation, Hindu Forum of Britain, and others. The HSS was investigated for hate speech and asked by the Charity Commissioner to keep away from the RSS, its parent body. Meanwhile Treasury minister Priti Patel has openly expressed her admiration for it and MPs like Conservative Bob Blackman, MP for Harrow East, whose constituency has a substantial Hindu population, have shared platforms with RSS leaders at HSS events and hosted meetings for rabid Hindutva supporters like Tapan Ghosh at the House of Commons. With the rise of Hindutva in the UK, caste discrimination has increased in the Indian communities. Legislation outlawing caste discrimination was passed by the last Labour government but never implemented. The Hindu Right groups, MPs like Blackman and a few academics like Prakash Shah, (QMUL), have come together to lobby against this legislation. These groups have no concern for Indian migrants facing detentions and deportations and, like Modi himself, are happy to barter their human rights for trade deals for Indian corporates.
Please join us in protest here.
Sign the petition that will be handed in during CHOGM to the UN Special Rapporteur on minority issues.
Modi is not welcome!
#ModiNotWelcome #Commonwealth18 #Narendramodi
#ModiNotWelcomeCoalition #ourCommonwealth
#BharatKiBaatSabkeSaath