November 26, 2021
Posted by:

kevbha

Category:

News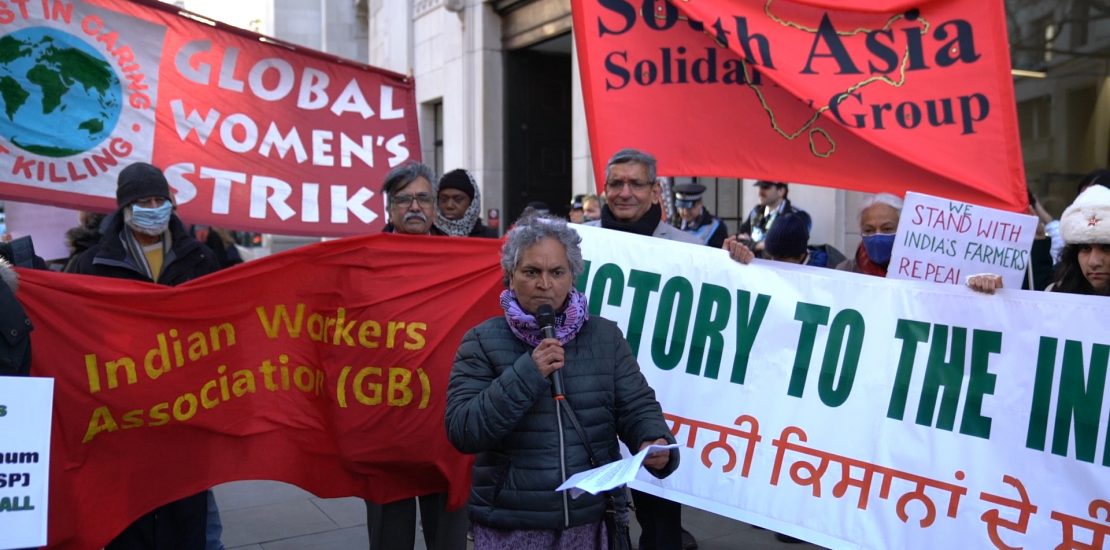 At the demonstration held on the 26th of November 2021, Sarbjit Johal of South Asia Solidarity Group said:
"We, SASG stand here with all these other groups here TO CELEBRATE THE MASSIVE VICTORY OF THE FARMERS' MOVEMENT To express our solidarity with the Farmers who in protesting against the farm laws have organised one of the largest and longest protest we have known The Modi BJP passed these laws at the beginning of the pandemic thinking no one would dare to protest under such conditions. Yet the farmers refused to give in, women, men, children camped for over a year at Delhi's borders, and in many other places, they faced murderous attacks from right wing supporters of Modi's govt, lost over 700 of their loved ones – family, friends and supporters – to the bitter cold, to covid, or they were murdered by the police and armed forces. Many have received police charges and have been imprisoned. But despite all these efforts to crush their movement, the the farmers have remained united in their demands and resistance to Modi's fascism.
They have stood up to the corporates who are trying to take over Indian agriculture, and plunder the land for their profits. They have stood up to Ambani and Adani and to British finance capital which backs them.The fact that Modi has been forced to withdraw the laws, shows the power of peoples movements. They were called Terrorists, Khalistanis, illiterate, simple, peasants. Now that they have won their demand to get the laws repealed, BJP Women like Kangana Ranaut and Uma Bharti have been quick to defend Modi trying to make him look like a caring reformer who really 'loves the Sikhs'.
But we remember the Gujarat genocide and stand with Zakia Jafri who is fighting for justice today We remember the Citizenship Amendment Act and stand with all those protesting against this Islamophobic Act stripping muslims of their rights to citizenship We stand with the political prisoners criminalised for dissenting against Modi's fascism and demand the release of Khurram Parvez, a leading human rights defender in Kashmir arrested under the Unlawful Activities (Prevention) Act We remember the mob lynching of Muslims and all the attacks on Dalits fighting for equal rights and we stand with all those across India standing up against Modi's fascist regime We will never forget 5th August 2019, the day Modi revoked Kashmir's special status and we stand with all progressives demanding restoration of Article 370 We of course will never forget that it was India's peasantry which sustained the freedom movement and eventually ended colonial rule. And after 1947, every major social movement has had India's farmers and youth at the forefront. And lets not forget that in the last three decades of HIndutva fascism and Globalisation, it was the movement of farmers against the Special Economic Zones which ended the 1894 Land Acquisition Act, it was farmers and Adivasis who stopped Modis attempt to subvert the 2013 Land Acquisition and Compensation Act in the interest of corporates. YES!….and we will never forget all those who were killed and injured at Lakhimpur Kheri and we demand the sacking of Ajay Mishra Teni, the BJP Home Minister reponsible for what happened that day.
We as South Asians in the diaspora stand with all those who love democracy and love India. We stand with the farmers and workers and all those who support them to demand:
1 Minimum Support Price is made a legal right
2 Compensation for the lost lives (700+)
3 Withdrawal of charges against farmers
4 Waiver of pending Electricity bills
5 Sacking of Ajay Mishra Teni, the Minister responsible for Lakhimpur Kheri
Throughout the last year the farmers movement has also amplified the demands of other struggles and movements against fascism. We salute their inspiring solidarity and reiterate those demands too:
-Repeal Labour laws
-Repeal Unlawful Activities (Prevention) Act (UAPA)
-Repeal Citizenship Amendment Act (CAA)
-Restore Article 370
We stand United Against Fascism in India! Fascism will be defeated!" With Global Women's Strike, Women of Colour Global Womens Strike, Indian Workers Association (GB) and others.