December 28, 2013
Posted by:

admin

Category:

News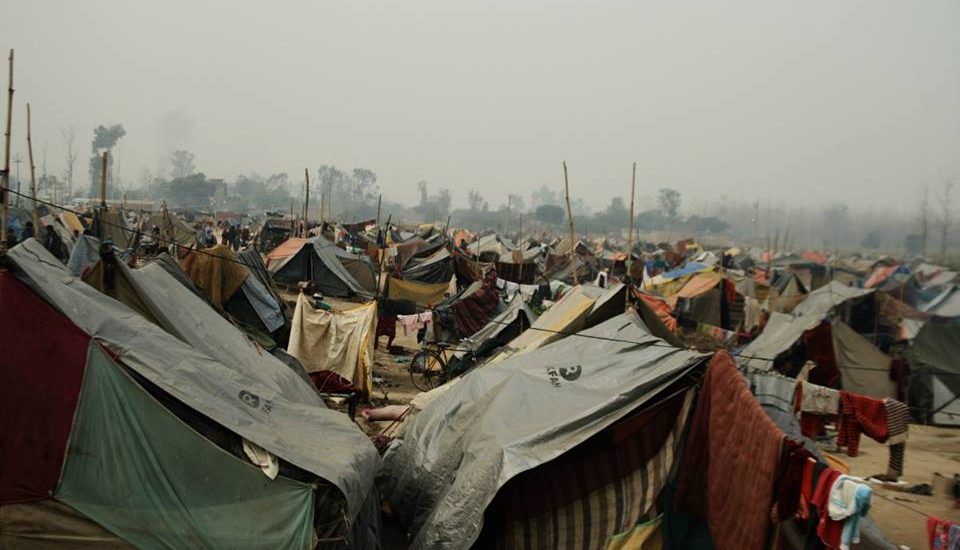 Urgent Appeal for Relief for the Survivors of the Muzaffarnagar Riots
28th December 2013
Dear Friends
Please support the appeal below for help for the survivors of the Muzaffarnagar riots. Thousands of families are still living in relief camps since being forced to flee their homes during the riots in September in Muzaffarnagar, Uttar Pradesh, India. At least 34 children under the age of 12 have died in these camps as a result of the poor conditions, cold and lack of medicines.  People are desperately in need of warm clothing, firewood, medicines and food.
The riots in September were orchestrated by the Hindu right-wing BJP and its parent organisation the RSS, along with the Bharatiya Kisan Union, with the goal of forcible displacement of Muslim families from the area(1) . The total numbers of people killed are still not known; evidence has emerged of systematic rapes of Muslim women during the riots (2). The ruling Samajwadi Party government did not do anything to prevent or control the violence, nor did it rehabilitate the displaced. Instead the administration  has been continuously harassing the riot survivors living in relief camps and trying to ensure that they do not return home(3)(4). Shockingly, Chief Minister of U.P. Mulayam Singh Yadav recently claimed that the people living in relief camps were not riot victims but 'conspirators' who had been asked to stay there by the BJP and Congress to make a political point – leading to widespread outrage.  Even more callously, the U.P. Home Secretary, commenting on the number of children living in the camps who have died as a harsh winter has set in, quibbled that 'no-one can die of cold. Children have died of pneumonia, not of cold'(5).
A team of volunteers organized by the CPI(ML) is visiting Muzaffarnagar on 28 December to distribute the first batch of relief materials they have collected, and is currently collecting through a fundraising drive including street collections in cities and towns across India for a second batch to be sent during the next few days. But a lot more help is still needed to prevent further deaths as the cold weather continues.
To contribute to the relief effort from the UK, please make cheques payable to South Asia Solidarity Group, and write 'Muzaffarnagar Appeal' on the back. Send to South Asia Solidarity Group, c/o Londec, 293-299 Kentish Town Road, London NW5 2TJ. Or contact sasg@southasiasolidarity.org
(1)    http://kafila.org/2013/09/18/muzaffarnagar-2013-violence-by-political-design-centre-for-policy-analysis/
(2)    http://www.outlookindia.com/article.aspx?288907
(3)    http://www.urdumediamonitor.com/2013/12/09/administrations-wrath-riot-victims-muzaffarnagar/
(4)    http://twocircles.net/2013nov23/muslims_verge_losing_4000_acres_land_muzaffarnagar.html#.
(5)    http://timesofindia.indiatimes.com/india/Muzaffarnagar-relief-camps-deaths-Nobody-dies-of-cold-UP-home-secretary-says/articleshow/28001591.cms
Demand Relief, Rehabilitation, and Justice for Muzaffarnagar's Riot Survivors
Observe National Protest Day on 2nd January 2014
Friends,
The bitterly cold winter has begun. And the stories of Muzaffarnagar's relief camps jolts our conscience.
Thousands of people, who have watched their loved ones killed in cold blood, and who have been raped, and lost their homes and means of survival, languish in the relief camps of Muzaffarnagar. The Uttar Pradesh Government had pleaded earlier that they were helpless to prevent the communal violence. But why has the Government turned a blind eye and a deaf ear to the plight of those in the relief camps?
·34 children have died in relief camps in Shahpur, Budhana, Malarpuur and Sunhati due to the cold, and lack of medicines.
·There have been instances of rapes in the relief camps. FIRs have been filed in rape cases that took place during the communal violence – but the accused are yet to be arrested.
·Meanwhile, the BJP shamelessly felicitated its MLAs who are accused of leading the communal violence.
·And the Akhilesh Government issued an order forcibly evicting the riot-hit from the relief camps, and pressurising them to accept a Rs 5 lakh payment in exchange for giving up their right to return to the villages from where they were evicted! In exchange for the Rs 5 lakh, they are being asked to sign an affidavit saying ""Main aur mere parivar ke sadasya apne gram mein hui hinsatmak ghatnaon se bhayakant hokar gaon va ghar chhodkar aaye hain, tatha in kinhi bhi paristhitiyon mein ab apne mool gaon evam ghar nahin lautenge (I and my family left our village and our home due to the violent incidents there. We will not return to our village and home under any circumstances)."
·Also, the UP forest department has booked thousands of Muzaffarnagar riots victims for setting up relief camps by "encroaching" on forest land.
·The report submitted to the UP Government by the 10-member committee of Ministers under the leadership of senior SP Minister Shivpal Yadav, appallingly, blames the madrasas running the relief camps for not wanting to wind up the relief camps in spite of the situation having returned to 'normal'!
·The SIT constituted to enquire into the riots is doing a mere token job of it and not bothering even to talk to the victims.
We cannot watch this travesty of justice in silence.
The CPI(ML) appeals to people all over the country to contribute funds that can be used to buy relief materials (warm clothing, firewood, medicines, food) that are urgently for the Muzaffarnagar riot-affected. A CPI(ML) team is visiting Muzaffarnagar on 28 December to distribute the first batch of relief materials collected, and is currently collecting for a second batch.
CPI(ML) also appeals to begin the new year with a resolve to secure justice for Muzaffarnagar's riot victims.
On 2nd January 2014, the CPI(ML) has called for an all-India protest day demanding immediate arrest and prosecution of all rioters and rape-accused named in FIRs, and demanding that the  State Government of UP ensure urgent relief and rehabilitation measures for the riot-displaced and riot-affected people.