May 8, 2018
Posted by:

admin

Category:

News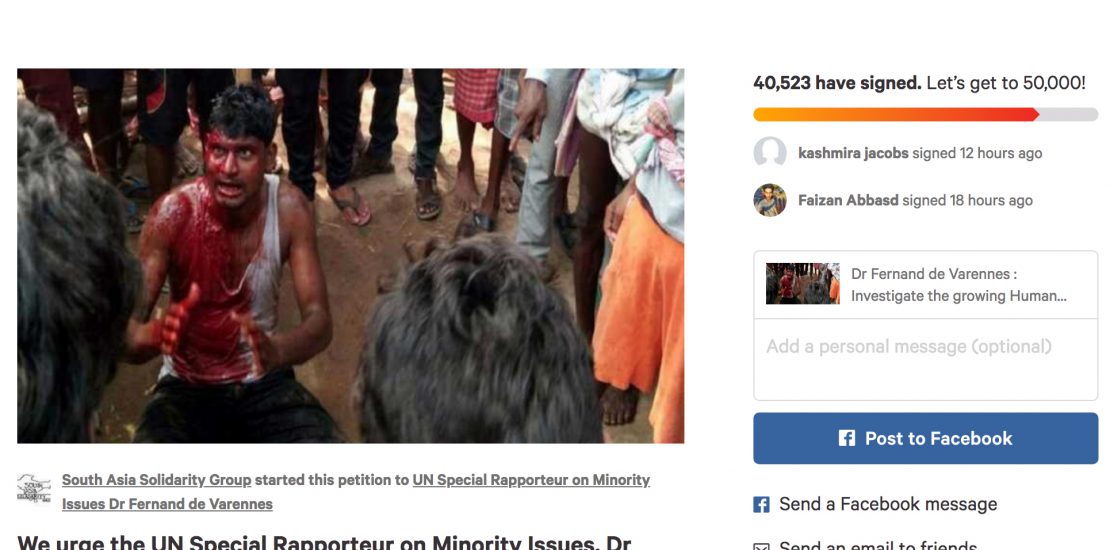 8 May 2018
London
PRESS RELEASE: 40,000 international citizens call on UN to investigate human rights emergency and attacks on Religious Minorities and Dalits in India.
See the petition here.
Urging the UN to listen to the 40,000 signatories, South Asia Solidarity Group's Campaigner Keval Bharadia says "UN Special Rapporteur on Minority Issues, Dr Fernand de Varennes must investigate the human rights violations which target religious minorities, specifically Muslims and Christians, and Dalits are occurring on a vast and horrific scale in India today".
"There is a horrifying rise in the rapes, mutilation, acid attacks and other forms of violence, often followed by murder, of women and girls of all communities, but Dalit women and girls and those from religious minorities are being specifically targeted. Lynchings of Muslims and Dalits, and stripping, flogging and public humiliations have become widespread. Muslim or Dalit and so-called 'lower-caste' men in relationships with, or married to, Hindu or upper-caste women have been brutally attacked or murdered – in the name of protecting the purity of the women involved. Many areas, particularly in UP, but also elsewhere have seen attempts at ethnic cleansing with threats and attempts to displace long-established Muslim communities. The election of Yogi Adityanath as Chief Minister of UP, India's most populous state, in March 2017 has clearly made the human rights situation far worse, further emboldening those perpetrating communal and caste violence in UP and spilling over to other states. Adityanath has a record of hate speech and has several criminal cases pending against him."
Thousands of demonstrations across South Asia and elsewhere have condemned the attacks. This week, hundreds of people took to the streets in London, UK to protest Narendra Modi's role in and inaction to the violence as he attends the Commonwealth Heads of Government meeting there.
South Asia Solidarity Group has today sent the petition to Dr Fernand de Varennes and hopes he acts for the survivors, and the families and communities of the people who have died as a result of the violent communal attacks and initiate an investigation immediately. 
Email: southasiasolidaritygroup (at) gmail.com
Twitter: @SAsiaSolidarity
Facebook: @southasiasolidarity
Website: www.southasiasolidarity.org/
End