February 25, 2022
Posted by:

kevbha

Category:

News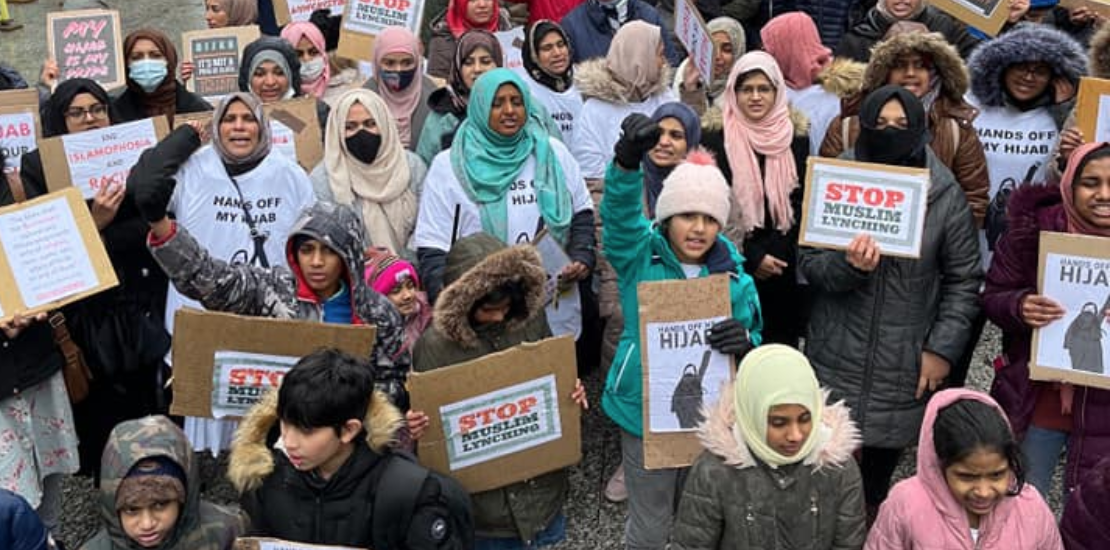 UNDER EMBARGO TILL SATURDAY 26 February 2022
We the undersigned are gravely concerned by the targeting of Muslim women in India characteristic of a prelude to a genocide. We call on you to urgently institute an investigation.
At the end of February, it will be 20 years since the orchestrated genocidal attacks on the minority Muslim community in Gujarat in 2002, when Narendra Modi was Chief Minister of the State. At least 2,000 Muslims were murdered and 200,000 displaced. Women and girls were specifically targeted. As historian Tanika Sarkar wrote, 'The pattern of cruelty suggests three things. One, the woman's body was a site of almost inexhaustible violence, with infinitely plural and innovative forms of torture. Second, their sexual and reproductive organs were attacked with a special savagery. Third, their children, born and unborn, shared the attacks and were killed before their eyes'.
Today with Narendra Modi's far right Hindu supremacist regime in power in India, the country is on the brink of repeating the Gujarat 'experiment' on a much bigger scale.
Hindu supremacist leaders, often members of the ruling Bharatiya Janata Party, are making open calls for a genocide of Muslims, in vast public gatherings across the country, with impunity. Prime Minister Modi has endorsed these calls by his associates with his silence.
Muslim women are being centrally targeted in ways which display the characteristics of imminent genocide seen elsewhere in the world:
– sexual violence against them by the dominant community in the name of 'revenge' for imagined historical wrongs
– women being excluded from citizenship, public space and education through a combination of Islamophobic laws and state sponsored terror.
– women who speak out against this horrific situation being silenced and criminalised
– women's bodies being targeted by the state for 'population control' in the context of a barrage of false claims about Muslims' 'excessive' fertility.
The events of recent weeks alone include:
– A Hindu supremacist woman leader calling for the mass enslaving and rape of Muslim women, to force them to "breed" for Hindus, while addressing a gathering of right-wing Hindu-supremacist militants in Chhattisgarh. The video of her speech has gone viral but no action has been taken against her.
– Muslim women students who choose to wear the hijab have been banned from attending colleges in the BJP-ruled state of Karnataka. This is in violation of rights enshrined in India's Constitution and in some cases the colleges' own rules. Shockingly, Hindu students are being mobilised by the hatemongers into frenzied mobs targeting young Muslim women students. We fear that wearing the hijab could now become the latest pretext for mob lynching of Muslims by Hindu supremacist-led mobs. One recent video showed a large mob of young men pursuing a lone Muslim woman student while shouting 'Jai Shri Ram' – the religious greeting which has become a battle cry of Hindu-supremacists, used during lynchings and murders of Muslims. Meanwhile the state is seeking to criminalise the young hijab-wearing students themselves and brand them 'terrorists' – the Karnataka Home Minister has ordered an investigation to 'probe their links' with 'terror groups'. It is all the more disturbing that despite the hijab ban being clearly unconstitutional, the Karnataka High Court has made rulings in favour of the government in this matter. Emboldened by this, some colleges are humiliatingly forcing women teachers to remove their hijabs in public to enter college premises to work.
– Muslim women who have been publicly critical of the government or the Hindu supremacist ideology, including journalists, students and activists, are facing vile orchestrated attacks online from far-right Hindu supremacist groups who are seeking to humiliate and silence them. These attacks include the Sulli Deals and Bulli Bai apps which 'auctioned' outspoken Muslim women online.
– The BJP government has introduced a Population Control Bill which – together with accompanying hate speech – specifically targets Muslim women's bodies as being excessively fertile. This is another trope in the fascist repertoire. It will lead to families being penalised for having more than two children, despite population growth in India falling below replacement levels and declining fastest in the Muslim communities. This new law mirrors coercive legislation already introduced in the state of Uttar Pradesh where households with more than two children are denied public subsidies and government jobs. These laws invoke and legitimise the ongoing stream of false claims and hate speech about Muslims in India being set to 'outnumber' Hindus.
These events are taking place in a wider context of misogynist and Islamophobic laws:
– An Islamophobic and exclusionary law, the Citizenship (Amendment) Act (CAA) was passed in December 2019. Used in conjunction with a fascistic National Register of Citizens (NRC) already in place, the CAA potentially disenfranchises the Muslim population and has been seen as a prelude to mass statelessness. Women are particularly in danger of being excluded by the CAA because they are least likely to have documents proving their ancestors' residence in India, as they leave their parental homes on marriage. Under these measures, women are already being incarcerated in detention centres in the state of Assam, in horrendous conditions.
– In protest against these laws, Muslim women led the unique Shaheen Bagh mass occupations of public space on the streets of Delhi, which inspired activists the world over. Many young women and men who protested peacefully against the CAA have been charged under the draconian Unlawful Activities Prevention Act and many are still languishing in jail.
– So-called 'Love Jihad' legislation passed in various BJP-ruled states in 2020 and 2021 criminalises interfaith marriages and relationships. These laws together with the CAA/NRC have been compared to Nazi Germany's infamous Nuremberg Laws.
In this sinister and dangerous situation, we stand in solidarity with the many women continuing to courageously speak out against these attacks. We call on the UN Rapporteurs on Violence Against Women and on Minority Issues to urgently institute an investigation into the grave situation in India. The world must not look away.
SIGNED BY
Zarah Sultana MP
Apsana Begum MP
Nadia Whittome MP
Charlotte Nicholas MP
Kim Johnson MP
Bell Ribeiro-Addy MP
Claudia Webbe MP
Diane Abbott MP
Lord Sheikh, Co-Chair, All Party Parliamentary Group for the Prevention of Genocide and Crimes Against Humanity
Women's Organisations
Marsha Scott, CEO, Scottish Women's Aid
Meril Eshun-Parker, London Black Women's Project
Yenny Tovar, Executive Director Latin American Women's Aid
Vandana Aparanti, Women Against Caste
Sabrina Qureshi, Million Women Rise
Baljit Banga, CEO Imkaan
Zlakha Ahmed, CEO Apna Haq
Priya Chopra, CEO Saheli Asian Women Women's Group
Sarbjit Ganger, Director Asian Women's Resource Centre (AWRC)
Anjona Roy, Dostiyo, Asian Women and Girls Organisation
Jodie Evans, Ealing Labour Women's Forum
Musrat Dar, Birmingham Black Sisters
Mohini Howard, Women2gether
Nishma Jethwa, Director, Rights Collective
Rumana Hashem, Community Women Against Abuse
Sara, Women of Colour, Global Women's Strike
Gurpreet Virdee, Women and Girls Network
Sukhvinder Kaur, Director/Chair, Sikh Women's Aid
Sahdaish Pall, Director of Services Sikh Women's Aid
Gangdeep Kang, Board Member Sikh Women's Aid
Mandeep Sungu, Director Sikh Women's Aid
Khaldha Manzoor, Manager Rochdale Women's Welfare Association
Ila Patel, Director Asha Projects
Sarbjit Johal, Freedom Without Fear Platform
Dion Spence, feminist activist
Rahni Kaur Binjie , feminist activist
Academics
Dr. Sruti Bala, University of Amsterdam
Dr. Caroline Bennett, Advisory Board Member, International Association of Genocide Scholars
Professor Gargi Bhattacharyya – University of East London
Dr Hasret Cetinkaya, London School of Economics and Political Science
Dr Tanzil Chowdhury, Queen Mary, University of London  
Dr Melanie Crofts, De Montfort University
Dr Ashvin Devasundaram, Queen Mary University of London
Dr Jasmine Gideon, Birkbeck University of London  
Dr Feyzi Ismail, Goldsmiths, University of London
Professor Elisa von Joeden-Forgey, Department of Holocaust and Genocide Studies, Keene State College, New Hampshire
Dr Jyotsna Kapur, Southern Illinois University, Carbondale 
Dr Jens Lerche, SOAS, University of London 
Professor Sumi Madhok, London School of Economics and Political Science 
Neepa Majumdar, InSAF (International Solidarity for Academic Freedom in India) 
Dr Akanksha Mehta, Goldsmiths, University of London  
Dr Alessandra Mezzadri, SOAS, London 
Professor James Manor, School of Advanced Study, University of London
Professor Goldie Osuri, University of Warwick
Dr Ania Plomien, London School of Economics and Political Science Professor
Navtej Purewal, SOAS, University of London 
Dr Fatima Rajina, De Montfort University  
Professor Anandi Ramamurthy, Sheffield Hallam University
Professor Alpa Shah, London School of Economics
Dr Penny Vera Sanso, Birkbeck, University of London  
Dr Lotika Singha, University of Wolverhampton 
Professor Nikita Sud, Oxford University 
Dr Nisha Thapliyal, University of Newcastle, Callaghan 2308 
Professor Elaine Unterhalter, University College London 
Professor Phiroze Vasunia, University College London 
Dr Kalpana Wilson, Birkbeck, University of London,  
Dr Joyce Wu, FHEA, University of New South Wales, Australia
International Diaspora Organisations
South Asia Solidarity Group
InSAF India (International Solidarity for Academic Freedom in India)
Hindus for Human Rights USA
Justice for All
Foundation – The London Story
SOAS India Society
Friends of India, Texas
Coalition Against Fascism in India (CAFI)
India Civil Watch International (North America)
India Justice Project, Berlin
Scottish Indians for Justice
Strive UK
Lemkin Institute for Genocide Prevention
Momentum UK
Andrew Scattergood, Co-Chair Momentum
Gayá Sriskanthan, Co-Chair Momentum
Sonali Bhattacharyya, Secretary Momentum