January 24, 2022
Posted by:

kevbha

Category:

News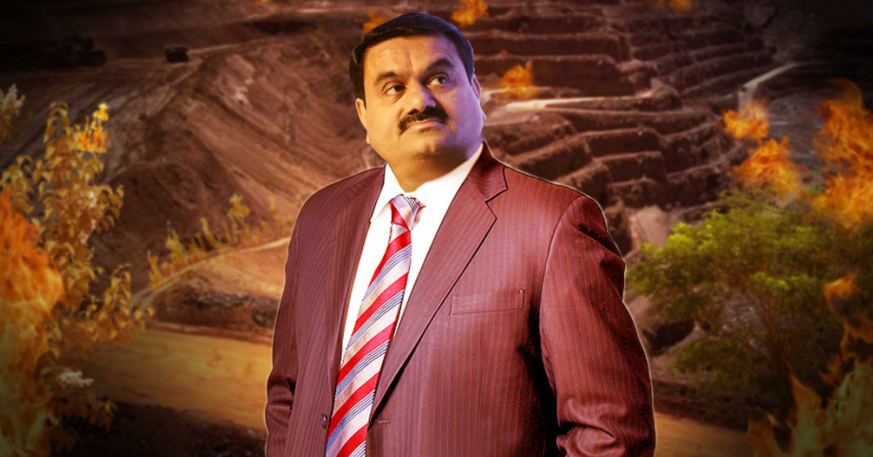 South Asia Solidarity Group Statement on Adani
26 January 2022
By Keval Bharadia
The UK's Science Museum in London has announced plans for a new 'Energy Revolution' gallery that is going to be sponsored by Adani Group. South Asia Solidarity Group, along with Culture Unstained, Survival International, London Mining Network, UKSCN London, Market Forces, XR Hammersmith and Fulham, Tipping Point UK, Coal Action Network, Scientists for XR and other human rights and activists groups are calling for the Science Museum to drop all of its association with the Indian conglomerate.
The protest comes on the back of widespread human rights violations and environmental destruction caused by Adani Group, especially in India, Indonesia and Australia. Adani continues to mine billions of tonnes of coal, displacing thousands of people from their lands, causing irreversible damage to cultures and biodiversity. Representatives of Adani-impacted communities have called on the museum to listen to them and drop Adani, stating that:
'Indigenous communities in all these countries are bearing the brunt of Adani's destructive coal expansion activities, experiencing land-grabs, repression, the destruction of sacred lands, pollution of air, land and water and, of course, the worsening impacts of climate change exacerbated by burning coal.'
Below, South Asia Solidarity Group provides some context to how its founder Gautam Adani, with Narendra Modi's assistance have not only laid waste to India's environment, but have entrenched power throughout India with a programme of neoliberal finance, fascism and Hindutva terror.
Adani origins
Adani Group started in 1988 trading commodities from its headquarters in Ahmedabad, the capital of the state of Gujarat, India. India's government began rapidly liberalising its economy around this time, allowing significant flows of private capital into and out of India. Adani Group capitalised on this political shift and is now a heavily debt financed $27 billion dollar organisation that owns sections of what was once India's publically held, and publically accountable national utilities and land. These are highly lucrative assets as they are essential public services and include waterworks, energy grids, ports, mines, power plants, airports and a host of strategic energy and transport organisations.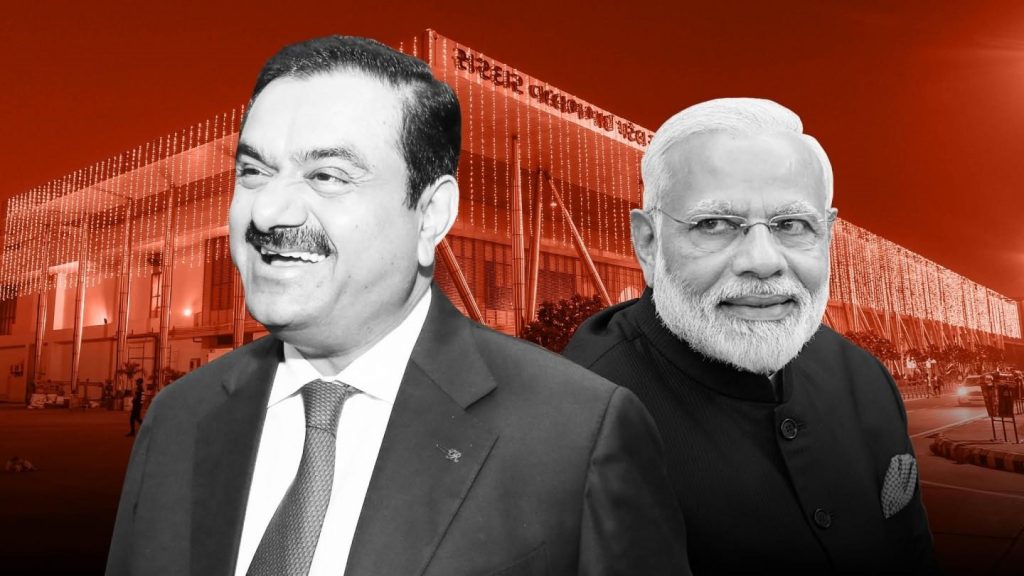 Adani and "the butcher of Gujarat"
Narendra Modi became Chief Minister of Gujarat in 2001 using divisive Hindu nationalist rhetoric and a promise of modernity and development through neoliberal economic planning working side by side with Gautam Adani and other powerful corporates. This period is marked, inevitably, by the State weakening labour power, fuelling xenophobia, fascism and violence, and exponentially rising inequality.
Since Modi came to power as India's Prime Minister, hate crimes including rapes, lynchings, torture and humiliation targeted at India's Dalits, indigenous people, Muslims and Christians is now a daily occurrence and widespread. Modi's party, the BJP is the political wing of the Rashtriya Swayamsevak Sangh (RSS), a militant Hindu nationalist/Hindutva paramilitary organisation that takes inspiration from Mussolini's Black Shirts and the Nazis. The aim of the organisation is to displace the constitution with a non-secular Hindu state. The RSS backed Britain's colonial rule in India and one of its former members assassinated Mahatma Gandhi. Priti Patel, the UK Home Secretary is an open admirer of the RSS and has been instrumental in championing Modi's anti-democratic, neoliberal economic policies amongst UK elites as well as legitimising the spread of Hindutva rhetoric out through the UK's Hindu temple network.
In 2002, Modi was accused of inciting a pogrom against Muslims which resulted in thousands of deaths.Women were specifically targetted for horrendous sexual violence. Children were killed by being burnt alive and those who dug the mass graves described the bodies as "burned and butchered beyond recognition", giving Modi the gruesome moniker of the "Butcher of Gujarat". International condemnation, including Modi being denied entry into the UK and US was inevitably short-lived once he became Prime Minister in 2014 as capitalist governments wanted access to deregulated Indian labour, minerals and land. It was Gautam Adani along with other powerful corporate CEOs made this happen, by helping to market Modi on the world stage and cement his reputation as a pro-business leader during the 2000s. In 2020 and in Modi's 6th year as Prime Minister of India, he has overseen another pogrom against Muslims in Delhi, where hundreds were sexually assaulted, knifed, shot and set alight.
Adani investors/accomplices
Notable UK based investors/accomplices of Adani Group stock and bonds include household names including HSBC, Standard Life, Aberdeen, Aviva, Elara Capital, Prudential, Schroders, Colchester Global Investors, Montagu Private Equity, Ashmore Group and Legal & General. The largest investor by far is Elara Capital, an Indian investment firm operating out of London with over $335 million invested in Adani Group. Elara Capital's non-executive director includes a Labour Peer, Lord Meghnad Desai. He quit his Labour Party membership in November 2020, following the readmission of former Party Leader Jeremy Corbyn as a member. The second largest UK investor in Adani Group is HSBC with almost $69.2 million in shares and bonds across the Adani Group.
Adani underwriters/accomplices
International banks have provided £12 billion in loans and other forms of financing to Adani Group, helping it to expand its operations and with it, human rights abuses and atrocities. The UK's largest backers include Barclays Bank and Standard Chartered. Financial institutions such as these financed the trade in African people, colonial empire building and continued imperial violence by Britain which caused hundreds of millions to perish. No wealth under capitalism is free from being blood-stained and calls for reparative justice for descendants of enslavement and colonialism, and all oppressed are rightly increasing. In today's globalised and highly financalised economy, corporates such as Adani Group and pro-capital governments such as the BJP are also implicated.
Sir Ian Blatchford, Science Museum Director
The current director of London's Science Museum Sir Ian Blatchford is a banker, having worked for the Bank of England and Barclays Investment Banking division, whose assets were from Lehman Brothers – the US investment bank that collapsed amidst the global financial crash in 2008. Whilst bankers received impunity from governments for their greed and recklessness for crashing the economy, the people received austerity which caused immeasurable suffering and death.
Sir Ian Blatchford reinforced his reputation as a gangster capitalist when he publicly dismissed the statements made by Adrian Burragubba, a spokesperson for the Wangan and Jagalingou Family Council, about Adani's destructive record on their traditional territory in Australia as "exaggerated", even though soon afterwards the company blew up a major Aboriginal sacred heritage site which was thousands of years old.
Adani and India's controversial Farm Laws
A massive movement of India's farmers recently succeeded in overturning key provisions of new laws to liberalise India's food crops, Adani owns mass industrial infrastructure that stores, transports, exports and markets agricultural produce. Adani would have become the single most important private sector (and therefore unaccountable) organisation responsible for food security across the Indian sub-continent had the Farm Laws come into effect.
The fight against the farms laws is not over however. Farmers, workers, Central Trade Union together with Samyukta Kisan Morcha (SKM), the coalition of protesting farmers unions, have called a General Strike across India on 23-24 February. The outcome of which has wide implications for agriculture and all workers' rights, urban and rural, all over the planet.
They are demanding a legally guaranteed Minimum Support Price for farmers and an end to repressive corporate Labour Codes and privatisation. Other demands include: compensation for families of the over 700 people who died in the struggle, the release of thousands of farmers, farm workers and other activists who were arrested and are still in prison.
Adani and resisting climate change
The world's biggest 60 banks have provided $3.8 trillion of financing for fossil fuel companies since the Paris climate deal in 2015, according to a report by a coalition of NGOs. Aided by capitalist government policy and protected with military machinery, there is a limitless money supply to debt finance fossil fuel mining and processing. Climate change and its inevitable human rights violations and atrocities are features of capitalism and imperialism, which require a grassroots and systematic response.
The private sector, whether fossil fuels or tobacco, transport or banking, has always been at the forefront of producing scientific and cultural propaganda and lobbying with government backing and impunity. In India, a momentous cultural shift is occurring under the conditions of an 'impoverish first, indoctrinate second' strategy.
The terrorised and landless are herded into Adani or RSS sponsored boarding schools and training camps which offer urgent sustenance. Once there and dependent, the inculcation of Hindutva and capitalist ideology begins whilst denigrating and erasing indigenous and ancestral cultures. The hope for the RSS is for the next generation of Hindutva foot soldiers and an army of people able to terrorise villages during election time and guarantee a vote for the BJP to keep the liberal myth of being 'the world's largest democracy' alive.
And it is not only India's elites who have turned to fascism and authoritarianism to provide the fertile ground for violence and terror in order to increase profits and cultural hegemony. Equal attention has to be drawn to overcoming global capitalism and imperialism as it does to resisting the greenwashing of individual organisations such as what Adani Group and its renewables division is doing with the now corporatised Science Museum. South Asia Solidarity Group stands with all groups resisting Adani worldwide and all fighting for systemic change.
---
Protest at the Science Museum
South Kensington
London
17:00 – 18:00
26 January 2022
#dropadani
Images:
Gautam Adani © NewsClick.in
Gautam Adani & Narendra Modi © FT