May 11, 2017
Posted by:

admin

Category:

News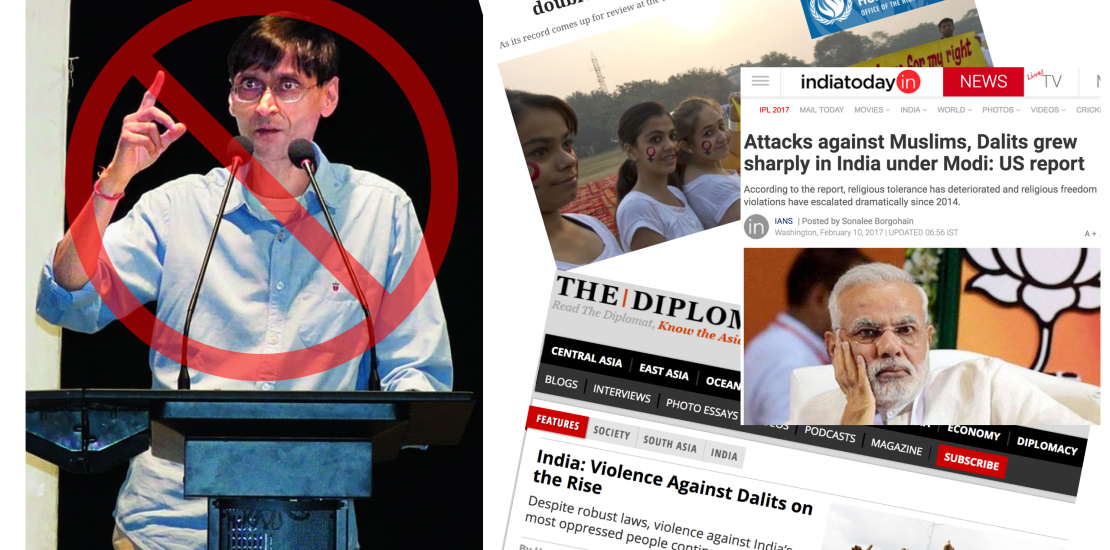 Paranjape reveals his true colours
Professor Makarand Paranjape of Jawaharlal Nehru University (JNU) reveals his true colours at a public talk hosted by Prakash Shah at the School of Law, Queen Mary, University of London.
The talk was co-sponsored by the Indic Academy
In this talk, Paranjape repeats the propaganda of the right-wing Hindu nationalists currently in power in India and their lies about Dalits and minorities. He openly declares himself to be a 'Hindu activist'.  He calls his own institution, JNU,  a 'den of parasites', calls JNU students 'incompetent' and 'nincompoops' because of quotas (positive discrimination for oppressed groups), says their degrees are 'worthless' and complains about the number of women students.
He praises the Chief Minister of UP Yogi Adityanath, notorious for his hate speech and incitement to violence against minorities, repeating the Hindu supremacist line that 'cow slaughter is a big problem' and that Modi 'can't be bullied' into condemning the extreme violence associated with Yogi Adityanath.
At a time of unprecedented violence against Dalits, OBCs, Muslims, Christians and women he focuses mainly on attacking self assertion and organisation by these groups.
He extols 'Hindu consolidation' and hails the BJP victory in UP and the appointment of Adityanath as a counter to 'identity politics'. He says this 'Hindu consolidation' is creating unity and benefitting all groups.
Paranjape acts as an apologist for the deeply unequal and oppressive caste system and in discussing Ambedkar's Annihilation of Caste, says caste is an important aspect of identity and citizenship and 'this is not good to annihilate'.
Listen to the extract of the talk here:
Please click on the articles below for further information:
Read in relation to audio extract from 8:00 relating to the rise of violence since the BJP came to power.
Attacks against Muslims, Dalits grew sharply in India under Modi: US report
UN human rights review: India must end its doublespeak and practise what it preaches
India: Violence Against Dalits on the Rise
Read in relation to audio extract from 13:50 relating to caste and identity:
Caste systems violate human rights and dignity of millions worldwide – New UN expert report
Read in relation to audio extract from 14:20 relating to Yogi Adityanath
What Yogi Adityanath Thinks About Muslims, Women, And Gay People