September 6, 2013
Posted by:

admin

Category:

News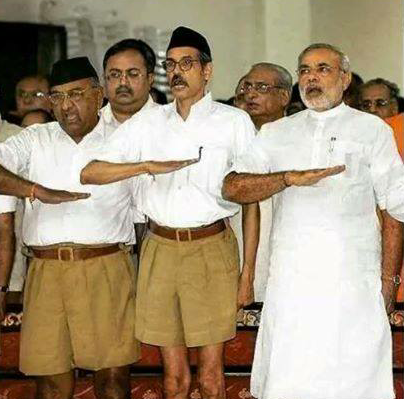 Barry Gardiner – Withdraw your invitation to the 'Butcher of Gujarat'!
Brent North MP Barry Gardiner will be embarrassed by a large and noisy protest outside his surgery at Brent Civic Centre, Engineers Way, Wembley HA9 0FJ, on Monday 9th September between 11.30am and 1.00pm.
Called by a large number of South Asian organisations, including Sikh and Muslim groups; human rights and equality campaigners; and local organisations including Brent Trades Council, the protest will demand that Gardiner withdraws his open invitation to Narendra Modi the so-called 'Butcher of Gujarat', and that he should never invite him again. A theatrical stunt about the relationship between Gardiner and Modi will be performed between 12.15 and 1.00pm
Organisers South Asia Solidarity Group said 'in the face of so much opposition to the invitation to Modi, Barry Gardiner has now released a statement saying that Modi is unable to come in the next few weeks. But we are continuing our campaign demanding that the invitation is officially withdrawn and not  repeated. Modi has already tried to make political capital in India from this  invitation, and we need to send a clear message that he is not welcome here'     
Protest:­­­ Barry Gardiner – Withdraw your invitation to the 'Butcher of Gujarat'! Monday 9 September 2013, 11:30 AM – 1 PM, at Barry Gardiner's MP's surgery, Brent Civic Centre, Engineers Way,
Wembley HA9 0FJ
There will be a theatrical stunt about the Modi-Gardiner relationship between 12.15 and 1.00pm
Who is Narendra Modi?
Narendra Modi has  been the Chief Minister of Gujarat since 2001 and is the most likely Prime Ministerial candidate of the Hindu supremacist Bharatiya Janta Party (BJP). He is an avowed admirer of Hitler and his policies.
In 2002, Modi was responsible for the horrific attacks on Muslims in Gujarat – over 2,000 men,women and children  were killed.  There is clear evidence (1)(2)(3) that these attacks were sponsored by the state. The police had been told not to intervene while Hindu right-wing mobs linked to the BJP murdered and raped, brutally murdering children in front of their mothers, who were then raped and murdered.
Among those killed in 2002 are three Britons, Saeed and Shakeel Dawood and Mohammed Aswat whose family are still seeking justice and whose case against Modi is still going on. Also on-going is a case brought by Zakia Jafri whose husband former Congress MP Ehsan Jafri was also murdered in the riots.
According to a leaked report by the British High Commission in India, the violence 'had all the hallmarks of ethnic cleansing and that reconciliation between Hindus and Muslims is impossible while the chief minister [Narendra Modi] remains in power'
and that 'far from being spontaneous' it was 'planned, possibly months in advance, carried out by an extremist Hindu organisation with the support of the state government.'(4)
Modi is currently making a bid to become India's next Prime Minister and has launched a campaign using openly fascistic and anti-minority rhetoric. At the same time he is claiming that he has been absolved of wrong doing in connection with the massacres of 2002 by the Supreme Court of India. This is untrue, see for example (6).
Barry Gardiner and the Labour Friends of India
Barry Gardiner  who chairs the 'Labour Friends of India'(LFI) has invited Modi to come and speak at the House of Commons on the subject of 'The Future of Modern India'. Other prominent members of  the LFI are Vikas Pota and Manoj Ladwa, founders of  the firm Saffron Chase,  Modi's key lobbyists  in the UK. Pota and Ladwa are prominent members of the Hindu Swayamsevak Sangh the London wing of the RSS, an organisation which is the Hindu right's storm troopers (7)
However, Barry Gardiner has acted without consulting  the rest of the Labour Friends of India group, as Batley and Spen MP, Mike Wood, also a member of the group, has complained in a letter to Gardiner. Wood has tabled an Early Day Motion in the British parliament opposing the invitation to Modi. (8) (9)
Pete Firmin Chair of Brent Trades Council said: 'It is a terrible idea to invite Modi given his involvement in the massacres in Gujarat. Barry Gardiner should withdraw the invitation right away" And Davinder Prasad of Caste Watch UK which is also supporting the protest said 'Modi's supporters have shown their caste prejudice and tried to block the our campaign for caste equality in the UK. Barry Gardiner  invitation to Modi  only encourages this discrimination, he should withdraw the invitation.'
Samarendra Das of  Foil Vedanta said 'Modi claims to have brought 'development' to Gujarat – but the reality is that nutritional  poverty is higher than all-India levels and there is a huge and growing gap between rich and poor in the state. The only people benefitting are corporates like Adani and the notorious Vedanta Resources. Modi should not be invited to the UK'
Modi's past visits to the UK have been used to raise extensive funds and support for communal violence. It makes a mockery of human rights and ignores the murders of three British citizens Saeed and Shakeel Dawood and Mohammed Aswat. The Dawood family are still seeking justice and have an ongoing case against Modi.
Contact: South Asia Solidarity Group sasg@southasiasolidarity.org; 07846873341
Notes
(1) See Human Rights Watch: ' "We Have No Orders To Save You"
State Participation and Complicity in Communal Violence in Gujarat',  April 30, 2002
http://www.hrw.org/reports/2002/04/30/we-have-no-orders-save-you
(2) Amnesty International: 'India: Justice  — the victim in Gujarat' [Full Report] 27 January 2005
http://www.coalitionagainstgenocide.org/reports/2005/ai.27jan2005.gujarat.pdf
(3)'Threatened Existence: A Feminist Analysis of the Genocide in Gujarat' Report by the International Initiative for Justice (IIJ) December 2003
http://www.gujaratfiles.net/files/iij.dec2003.report.pdf
(4)bbc.co.uk: UK report censures Gujarat
rulers (http://news.bbc.co.uk/1/hi/world/south_asia/1951471.stm
(5)Amnesty International: 'A decade on from the Gujarat riots, an overwhelming majority of victims await justice in India' 29 February2012
http://www.coalitionagainstgenocide.org/reports/2012/Amnesty-International-A-decade-on-from-the-Gujarat%20riots.pdf
(6) Sahmat – Citizens for Justice and Peace: 'Press Release- Supreme Court clean chit to Narendra Modi ?'
http://www.kractivist.org/press-release-supreme-court-clean-chit-to-narendra-modi/  which explains in detail how the Supreme Court has NOT in fact absolved Modi of responsibility for the 2002 genocide as he has falsely claimed.
(7) http://www.truthofgujarat.com/uk-based-hindutva-lobbyists-manoj-ladwa-vikas-pota-driving-force-behind-modis-uk-invitation/#.Uih83JpwbIU.
(8) Early Day Motion in UK Parliament http://www.parliament.uk/edm/2013-14/479
(9) Gardiner's invitation has also been supported by Sailesh Vara Chair of the Conservative Friends of India  who was forced to quit the All Party Parliament Group on Trade and Investment in India because of his connections with Saffron Chase. Sunday Express http://www.express.co.uk/news/uk/87026/MP-forced-to-quit-over-conflict-of-interests
Organised by South Asia Solidarity Group.
Supported by:
Council of Indian Muslims
Brent Trades Council
Foil Vedanta
Islamic Human Rights Commission
CasteWatch UK
Southall Black Sisters
Indian Workers Association, Birmingham
South Asian Alliance
Asian Rationalist Society
Freedom Without Fear Platform