February 25, 2022
Posted by:

kevbha

Category:

News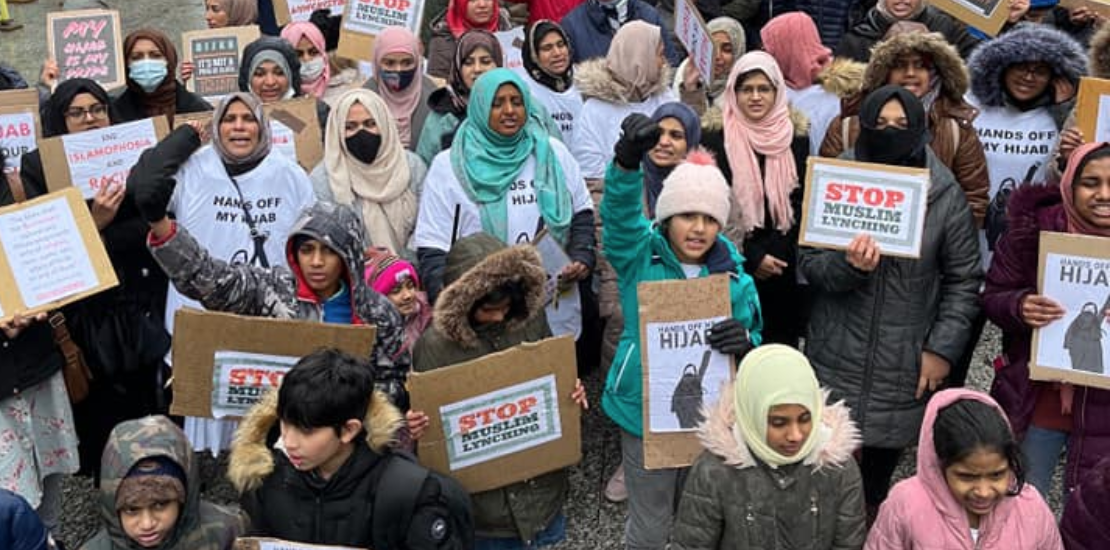 FROM: SOUTH ASIA SOLIDARITY GROUP
February 25, 2022
Nine UK Parliamentarians, including the Chair of the All Party Parliamentary Group on Preventing Genocide, together with more than 20 of UK's major women's organisations and 30 eminent academics working on South Asia, are urging the UN to urgently institute an investigation into the hounding of Muslim women in India which is 'characteristic of a prelude to a genocide'.
In a letter to the Special Rapporteurs on Violence Against Women and on Minority Issues, they note that it is 20 years since the orchestrated genocidal attacks on Muslims in Gujarat, which left 2000 dead and 200,000 displaced and involved the most horrific sexual violence against Muslim women. Narendra Modi was then Chief Minister of the State. "Today with Narendra Modi's far right Hindu supremacist regime in power, India is on the brink of repeating the Gujarat 'experiment' on a much bigger scale … Hindu supremacist leaders, often members of the ruling Bharatiya Janata Party, are making open calls for a genocide of Muslims, in vast public gatherings across the country, with impunity, and Muslim women are being centrally targeted in ways which display the characteristics of imminent genocide seen elsewhere in the world, for example:
– sexual violence against them by the dominant community in the name of 'revenge' for imagined historical wrongs
– women being excluded from citizenship, public space and education through a combination of Islamophobic laws and state sponsored terror.
– women who speak out against this horrific situation being silenced and criminalised
– women's bodies being targeted by the state for 'population control' in the context of a barrage of false claims about Muslims' "excessive" fertility"
The letter goes on to provide examples of the vicious and deeply sinister hounding of Muslim women in recent weeks, including the Karnataka hijab ban, occurring against a background of misogynistic and Islamophobic new laws passed by the Modi government. These laws, the letter notes, have been compared to Nazi Germany's infamous Nuremberg Laws.
Urging the UN Rapporteurs to act immediately, the signatories emphasise the need for international attention. 'The world', they say, 'must not look away'.
For more information, contact Mukti Shah, South Asia Solidarity Group +44 784687334; southasiasolidaritygroup@gmail.com