December 11, 2015
Posted by:

admin

Category:

News
South Asia Solidarity Group(SASG) and Japan Against Nuclear(JAN) along with Kick Nuclear held a powerful  protest against the Narendra Modi- Shinzo Abe Nuclear Agreement  outside the Japanese Embassy in London on Friday December 11, 2015. They demanded the scrapping of the impending Japan-India Nuclear Agreement and the creation of a nuclear free zone in South Asia.
Slogans which included 'No more Fukushimas! No more Che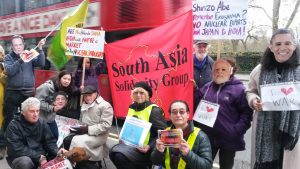 rnobyls! Scrap the Nuclear Deal!'  and 'Shinzo Abe, Narendra Modi, Scrap the Nuclear Deal!' rang out across the posh West End neighbourhood (which includes the Ritz hotel!).
Part of the protest  was a short theatrical skit, in which protesters in masks played out the imperialist politics behind the deal with a smiling Obama and Hollande pushing Modi and Abe into a deal which they gleefully accepted.
This was followed by speeches which drew attention to the massive people's movements in India as well as Japan against nuclear power. It was these movements, in Jaitapur, Koodankulam and Mithi Virdi, in India for example, which had inspired this international protest against the Nuclear Deal.
Speakers from South Asia Solidarity Group pointed out that the deal was another face of the US and French imperialism which is currently involved in air strikes in Syria and that it would ramp up regional tensions and strengthen US and NATO military power in the region, with Abe and Modi acting as its agents as well as in their own right. They emphasised that the claim that Nuclear Energy was 'clean energy' is a horrific lie and highlighted the reality that while on the face of it, nuclear power plants are for civilian use, the export of nuclear technology has enormous military implications. The BJP's aggressive militaristic Hindutva ideology, its record on testing nuclear weapons and the fact that India has refused to sign the Non-Proliferation Treaty must not be forgotten.
Speakers from Japan Against Nuclear spoke of the horrors of the Fukushima disaster and it continuing toxic fallout which is affecting not only Japan but much of the Pacific even five years after the Fukushima disaster. It is well-known that nuclear power plants pose enormous dangers at every step – from Uranium extraction to radioactive waste –they are a tremendous risk to the  environment and to all living creatures in their vicinity This is the case even when there is no accident. Even when they are  operating normally, they continuously contaminate the  air, water and ground with radioactivity and produce radioactive waste, for  which humankind has never found any long-term solution.
A petition to Shinzo Abe was handed in to the Japanese Ambassador