September 10, 2018
Posted by:

admin

Category:

News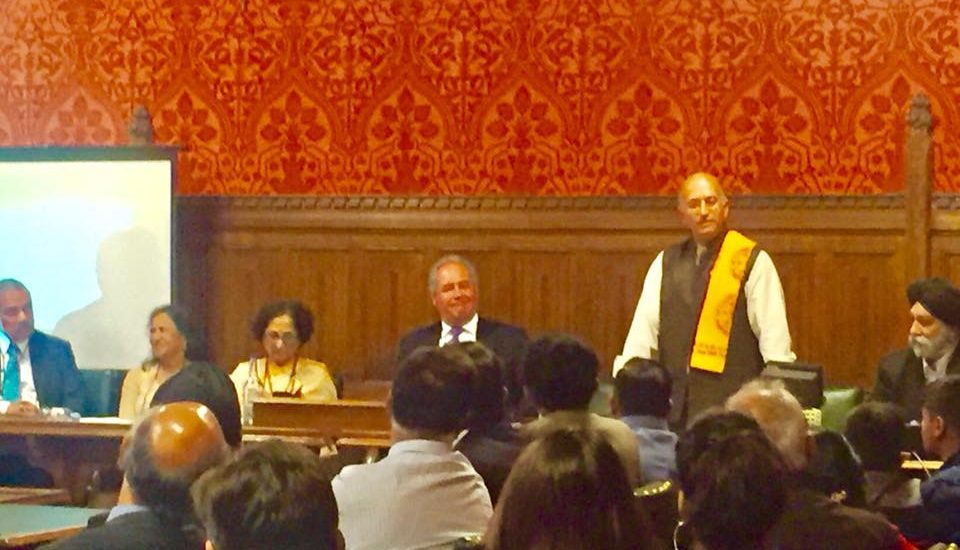 Detained for distributing leaflets in favour of a law against Caste discrimination
On Wednesday, 5th September 2018, the Hindu Forum of Britain held a meeting at the House of Commons titled 'Dissolving Caste Consciousness 2 :moving forward'. It brought together representatives from UK Hindutva and UK's most pro-Israel spokespersons.
It was chaired by Tory MP Bob Blackman, who previously hosted Tapan Ghosh (a well-known Islamophobe and Hindu supremacist with links to neo-Nazi Stephen Yaxley-Lennon aka Tommy Robinson) at the House of Commons.
Blackman is the Chair of the All-Party Parliamentary Group for British Hindus and office bearer of the Conservative Friends of Israel.
Speakers included Satish Sharma, general secretary of the National Council of Hindu Temples UK, Lord Jitesh Gadhia, banker and Conservative Party donor, Jasdev Singh Rai (representative of the Sikh Human Rights Group) and PC Varsha Mistry (from the Hindu Association in the Metropolitan Police).
Also present was Gideon Falter, who was called upon to speak from the floor. Falter is the Chairman of the Campaign Against Anti-Semitism which was formed in August 2014 during a major Israeli offensive against Gaza. It has been described as a McCarthyite Zionist propaganda organisation whose aim is to smear and libel opponents of Israel's apartheid regime. Falter said that he and his supporters would do all they could to support the Hindu Forum of Britain to eradicate the 'duty' on the government to make Caste an aspect of race in the Equality Act of 2010 (EA 2010).
Lord Jitesh Gadhia and Bob Blackman called for the need to learn from the way the Campaign against Antisemitism had got the International Holocaust Remembrance Alliance's definition of antisemitism passed in the Labour Party and to strengthen links with those who had achieved this. They outlined the strategy of their group which was to anticipate the issue to come up next in the 2019 Queens speech, then go to the House of Commons and move to the House of Lords. They urged everyone at the meeting to focus on lobbying their MPs to remove the duty on Parliament to make Caste discrimination illegal through the EA 2010. PC Varsha Mistry stated she was relieved that there was no legislation to outlaw caste as it would mean there would be fewer hate crimes.
Sharma said he had approached Corbyn multiple times to discuss the topic and each time Corbyn failed to reply. Implying to the room that Jeremy Corbyn is a man that cannot be reasoned with and is dangerous to Hindus and Jews alike. Despite, as we all know, Corbyn being the most prolific anti-racist member of parliament for a generation. Blackman warned of Corbyn to the Hindutva lobby in the room by reminding them of Corby's long-standing support of the Dalit movement. Blackman and Sharma went on to rally the room to look to Jewish political success and enter the Tory Party. Blackman even wanted to remind the room that South Asians were forcibly expelled from East Africa during their independence struggles because they failed to enter politics despite "Indians running their economies!". The irony of Blackman's Colonial Settler mentality was lost in the room.
It was strange to witness the main speakers say caste doesn't exist, that there is no meaning behind the imported Portuguese word and it was an invention in the 1800s when the British conducted its census. That is despite Sharma talking directly about Varnas and explaining there were 4 – Brahmins, Kshatriyas, Vaishya and Sudras. Blackman even began the meeting by asking 3 little children in the front row what caste they were. When the children replied "Goldsmiths" (a profession within Vaishya), Blackman retorted "great, you're going to be rich". He spent the rest of his speech saying Indian's contributed more than any ethnic group to the UK and were the most law-abiding, receiving affirmative nods from the Indians sitting beside him.
Sarbjit Johal from South Asia Solidarity Group who attended the meeting writes about her disturbing experience inside the meeting room and after she left:
'Following the speakers I was, after waiting a long time, allowed to ask a question. I addressed it to Mr Jasdev Singh Rai (representative of the Sikh Human Rights Group) . "Why was there a Guru Ravidass Gurdwara and a Singh Sabha Gurdwara" I asked him "when he himself had said that there was no such thing as caste discrimination? And also why did some members of my own family, and many other families, use words such as Chamar and Churi to abuse and denigrate people, when he had just said there is no word for caste in any Asian language because it is all just a colonial construct? ". Then I addressed the audience and said, "We are all Hindus, Christians, Muslims and Sikhs and that we know how hard the Asian community has had to struggle in this country, how much racism we have had to face and fight. We of all people know what it is like to be discriminated against.' I went on to say that I thought that we as the Asian community would be the first to support people facing inhuman discrimination. I ended with saying how sad I felt to hear the things the speakers had said and how it made me lose all faith in humanity.
As I could see the speakers smirking at me, I decided to leave. But when I heard a few friendly words from some of the audience I gave out a few leaflets which gave details of a Film Screening of Caste Aside and a Public Discussion to be held on Saturday 22nd September at the Hounslow Council Chambers. However as soon as I walked out of the meeting room, a Security Guard of Asian descent came rushing towards me and shouted into my face "you cannot distribute these leaflets here" and then she went on to quickly snatch back all the leaflets from everyone who had taken one.
As I moved away, I came across a crowd of South Asian people who had come out of a totally different meeting from another committee room. Some of them expressed an interest in my leaflets. Seeing this, the guard again came and snatched the leaflets from my hands and from the hands of the others. Then she forced me to stand outside Committee Room 11 while she liaised with Satish Sharma, Bob Blackman and others inside Committee Room 11. A number of police officers in the House of Commons were contacted. Eventually another Asian police officer with at least four other officers behind her, came to 'talk' to me and said. "I'm going to give these leaflets back to you, but you cannot distribute these leaflets at this meeting". The Security Guard rushed in to add "I saw you on CCTV that you were distributing these leaflets to those others too". So the Police was called to reprimand me for distributing leaflets on The Struggle against Caste Discrimination in the UK at a House of Commons meeting on Caste. I wonder what are they so afraid of?'