October 13, 2016
Posted by:

admin

Category:

News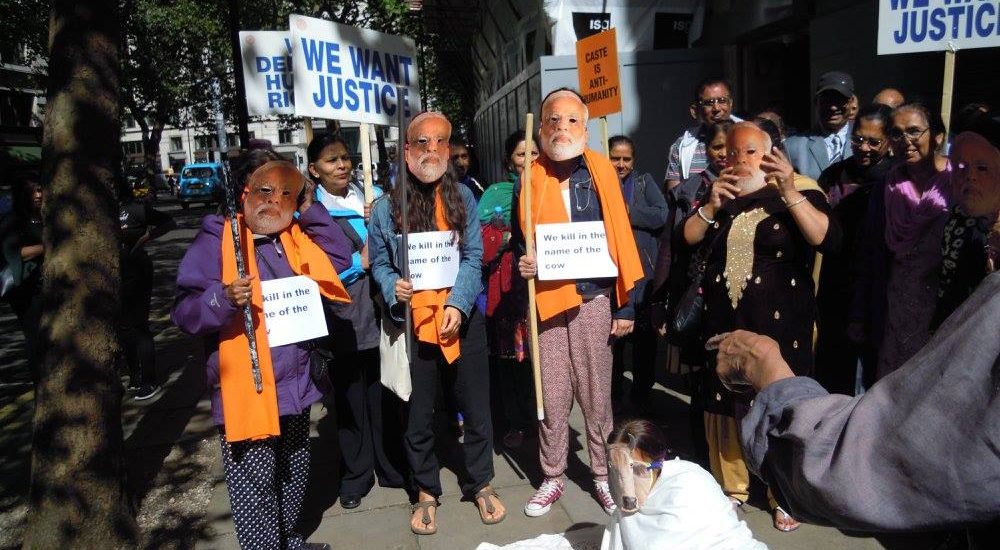 [M Ghazali Khan | Caravan Daily]
LONDON — Hundreds of activists held protests outside the Indian High Commission in London on Saturday against increasing violence and atrocities against Dalits in India.
More than 200 representatives and activists belonging to various organizations from all over the UK stood outside the India House for two hours and chanted slogans' "Manuvad se azadi", "Brahmanwad se azadi", "chu achoot se azadi", "le ke raheN ge azadi" (we want freedom from Manu—an ancient scripture preaching casteism—untouchability. We will get our freedom), "Down with Modi."
A press release issued by South Asia Solidarity Group (SASG), one of the organizations who called the protest, said that it was aimed at expressing "solidarity with the massive Dalit protests which are rocking India following a horrific attack on four Dalit men in Una, Gujarat on 11 July."
They held placards with captions, "Land for Dalits; not for Ambani and Adani"; "We want justice"; "We want Equality"; "No casteism".
A tersely worded memorandum addressed to Prime Minister Modi was also handed to the High Commission reminding Modi that "the Hindu supremacist BJP government, led by you, Mr Modi, which has been in power since May 2014, together with the numerous Hindutva killer gangs who stand behind the BJP, has unleashed an increasingly violent reign of terror and repression on Dalits, Muslims and other minorities. This appalling state of affairs has got far worse in the last two years, deteriorating first during your election campaign in 2013, and then deteriorating, even more acutely, since you have come to power in 2014."
"Official figures" claims the memorandum,"show a 44 percent increase in violence against Dalits in 2014 as compared to 2010, with 30 percent of the 47,064 crimes in 2014  committed in BJP-ruled states of Rajasthan, Madhya Pradesh, Gujarat and Chhattisgarh.
"This is happening against a background where dominant castes, who in rural India are the landowners, perpetrate the most heinous crimes of rape, arson, and murder of Dalits, specifically targeting women and children. Dalit women are forced to parade naked sometimes for the most minor of disagreements, or else even for 'not showing respect'. In the last few months that "'GauRakshaks' or cow protection vigilantes have become the latest face of Hindutva's killer gangs. They roam the countryside attacking and killing Muslims and Dalits whom they accuse of cow slaughter, or of consuming or intending to consume beef."
A theatrical skit was also performed in which a member of SASG wearing a cow mask sat on the floor while some wearing the mask of Narendra Modi, symbolizing Hindutva and cow protectors, stood beside her with protesters jeering and shouting, "Go Modi Go, Go Modi Go."
The protest was organized by CasteWatch UK, South Asia Solidarity Group, Ambedkar International Mission, London, Dr Ambedkar Buddhist Action Committee Birmingham, Dr Ambedkar Buddhist Organisation, Central Valmik Sabha  UK, Shri Guru Ravidass Cultural Association, Birmingham, Shri Guru Ravidass Sabha , Manor Park, London Shri Guru Ravidass Sabha, Wolverhampton, Dr Ambedkar Memorial Committee Great Britain, Voice of Dalit International UK, International Asian Christian Front, South Asian Alliance.