November 25, 2015
Posted by:

admin

Category:

News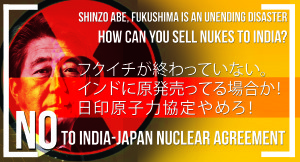 PROTEST: FRIDAY 11 DECEMBER, 10.30am – 12.30pm, Japanese Embassy, 101-104 Piccadilly, London W1J 7JT
It is now nearly 5 years since Fukushima but its disastrous fallout is continuing to profoundly affect Japan and much of the Pacific. Against this background the Japanese PM Shinzo Abe is due to visit India, on 12-13 December, to sign a nuclear agreement with Indian PM, Narendra Modi. The effects are likely to be catastrophic. The anti-nuclear movements in Japan and India are fighting to stop the deal.
The Deal would resurrect the global nuclear lobby which is in terminal crisis due to safety concerns, increasing costs and the growth of viable renewable energy. It will turn India, one of the few countries expanding its nuclear projects into a massive market for the nuclear industry. Six of its EPR reactors built by Areva and 4 each by GE and Westinghouse will go ahead immediately. Currently, they are waiting for essential components which are manufactured only by Japanese companies.
Lives and livelihoods in India would be threatened and repression would increase. Most of India's reactor projects are located in highly populated, ecologically fragile and often earthquake or tsunami- prone areas. They have been the scene of sustained struggles by local communities who are facing forced mass eviction, often at gunpoint, and whose lives and livelihoods are being threatened. These protests have been met with massive and brutal repression. India is the only country in the world to propose a weaker nuclear regulator to replace its already weak nuclear safety monitoring body. The government is also trying to do away with legal provisions to hold the nuclear suppliers liable in case of accidents. Transparency or accountability in the operation of reactors is almost non-existent.
The Deal will massively increase regional tensions. In 1998, a BJP government in India conducted nuclear tests without any immediate provocation, purely to boost the government's image of macho Hindu supremacy and aggressive militarisation. Today the same party is in power, with a greater majority and a more fascistic leader. It has orchestrated horrific attacks on Muslims and Christians. There is a real fear that its growing militarism will spill over into South Asia as a whole, engendering a nuclear confrontation with India's nuclear-armed neighbour Pakistan.
Who is pushing for the deal?
The  forces of US and French imperialism stand behind the deal. They want the deal because without it (and without the Japanese components which it would make available) their nuclear reactors in India cannot operate and they have been urging Japan and India to sign it.
In Jaitapur, in Maharashtra, for example a project backed by the French state-owned multinational Areva is attempting to set up the world's largest power plant in an earthquake prone zone bordering the Arabian Sea. However it needs crucial Japanese components . The power plant is being opposed by local people who are deeply concerned about the impact of the project and its inherent dangers. They are mainly farmers who are losing their land and fisherpeople who point out that even without accidents, the power plant will affect the temperature of the sea around it , not only destroying their livelihoods  but profoundly impacting on the biodiversity of the region. Thirteen villages from around Jaitapur have passed a unanimous resolution against the French nuclear power plant. Protests will intensify during the Japanese Prime Minister's visit. Similar protests will take place around other nuclear power plants as well as in Mumbai, Bangalore, Delhi and other Indian cities
We stand in solidarity with them
We must fight this deal which revives the global nuclear lobby, legitimizes India's nuclear weapons, heightens regional tensions and brings India and Japan closer in a militarist framework to counter China in line with the imperatives of US imperialism.
Demand a nuclear free zone in South Asia!
Stop the Japan-India nuclear agreement!
Called by Coalition for Nuclear Disarmament and Peace (India),

Japanese Against Nuclear @JAgainstNukesUK and South Asia Solidarity Group southasiasolidaritygroup@gmail.com @SAsiaSolidarity