August 9, 2017
Posted by:

admin

Category:

News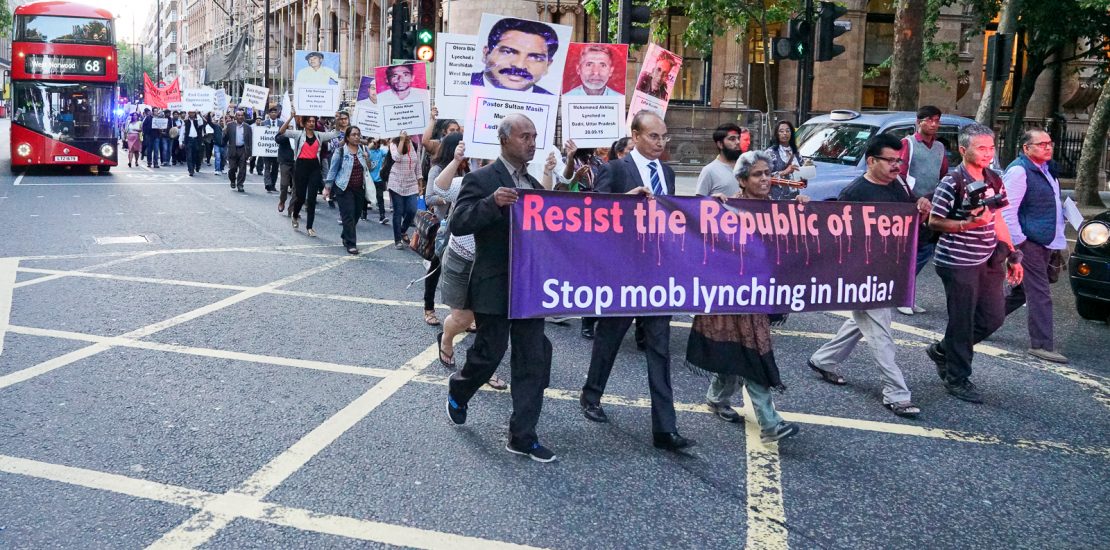 On the 70th anniversary of India's Independence, we must not remain silent and allow the forces of the Hindu far-right to transform India into a Republic of Fear. Join us in a torchlit march in solidarity with the victims and survivors of the ongoing epidemic of mob lynching of Muslims, Christians and Dalits in India. We will march from the Mahatma Gandhi statue in Tavistock Square to the Indian High Commission.
On India's Independence Day we will remember 15-year-old Junaid (murdered in Ballabhgarh, Haryana), Asghar Ali (Ramgarh, Jharkhand), Otera Bibi (Murshidabad, West Bengal), Zafar Hussein (Pratapgarh, Rajasthan), Dalit families of Shabbirpur village (Saharanpur, UP), Pastor Sultan Masih (Ludhiana, Punjab), Pehlu Khan (Alwar, Rajasthan), the Sarvaiya family (Una, Gujarat), Rama Singrahiya (Sodhana, Gujarat) Mohammad Akhlaque (Dadri, UP), and the many others who have been brutally assaulted or murdered at the hands of lynch mobs. We will pledge in their names to stand together against this violence and the Hindu supremacist Brahmanical ideology which is fuelling it, and to hold the Modi government to account for the horrific crimes committed against them.
Mob lynchings of people belonging to religious minorities, specifically Muslims and Christians, and Dalits are occurring on a horrific scale in India today. Violence against Muslim and Christian communities has been increasing since the early 1990s, and upper caste atrocities on Dalits are a longstanding phenomenon. But there has been a massive escalation in both since Prime Minister Narendra Modi and the Bharatiya Janata Party (BJP) came to power at the Centre in 2014. Hindu supremacist gangs closely linked to the ruling party, or in some parts of India directly set up by the state, are the chief perpetrators.
But resistance is also growing, as shown by the protests led by women in Jharkhand after Asghar Ali's murder, and the massive #NotInMyName demonstrations against mob lynching taking place in cities across India as well as internationally.
On the 70th anniversary of India's Independence, join us and march in solidarity with this resistance to Hindu far-right terror.
More details on facebook here: Follow us on Twitter here at @SAsiaSolidarity.
Supporting organisations: South Asia Solidarity Group; Castewatch UK; SOAS India Society; Anti Caste Discrimination Alliance; Federation of Ambedkarite and Buddhist Organisations UK; Voice of Dalit International (VODI); Together 4 Good