August 31, 2022
Posted by:

kevbha

Category:

News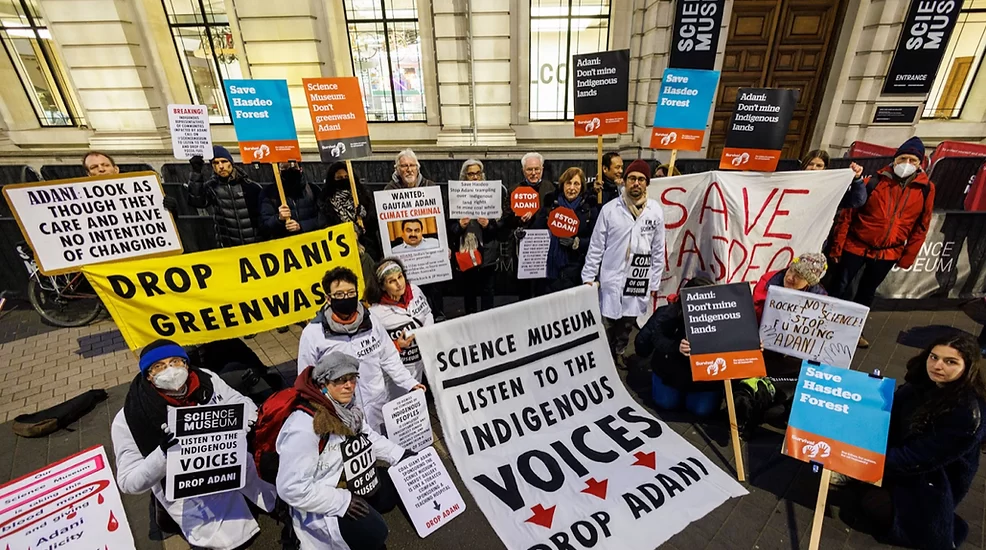 Dear Chila, Amish, Lucy and Monish,
We are progressive artists, writers and academics writing to you out of concern that you are involved in the Science Museum's Lates event which this month is about India. We urge you as highly reputed artists to show your support to the people of the global south including India and stand against companies that have supported both political repression and environmental destruction. India Lates is supposedly an event celebrating Indian culture but it is hosted by an institution whose sponsors are companies which causes massive harm to large numbers of Indian people and environments
Perhaps you are not aware that while a very large number of other institutions have distanced themselves from fossil fuels, the Science Museum Group, once a highly respected and progressive organisation, has accepted sponsorship from fossil fuel companies which are not only deeply implicated in climate change but, literally, have blood on their hands, and that it is supporting them directly by helping to greenwash their images. These corporates include Shell which in its pursuit of oil has been involved in a series of horrific crimes, particularly in Nigeria and Adani which is spreading death and irreparable environmental damage on a massive scale in India, Indonesia and Australia.
We don't know if you are aware that at this time of climate emergency the Adani group continues to mine billions of tonnes of coal. In India, this coal is being mined on land grabbed from Adivasi (indigenous) communities. As a result, thousands of families face displacement and destitution while vast swathes of the central belt of India undergoes irreparable environmental damage. Representatives of the thousands of Adani-impacted communities have called on the Museum to listen to them and drop Adani but have been ignored.
Another chilling aspect of the Adani empire is that it has been built almost entirely through the patronage of Narendra Modi and in return Gautam Adani has and continues to fund the BJP and whole-heartedly supports Modi's fascistic programme of Hindu-supremacy, violent Islamophobia and casteist violence. The BJP is the political wing of the Rashtriya Swayamsevak Sangh (RSS), a militant paramilitary organisation modelled on Mussolini's Black Shirts and inspired by the Nazis. It is well-known that the RSS backed Britain's colonial rule in India and that one of its former members assassinated Mahatma Gandhi. Currently its openly stated aim is to turn India into a fascistic Hindu supremacist state. Since Modi came to power there have been not only daily lynchings, rapes, and humiliations of Muslims, Christians, Dalits and Adivasis by state-sponsored killer gangs across India but ethnic cleansing and calls for the genocide of Muslims. So close is Adani to Modi and the BJP that in some areas the Adani Group is indistinguishable from the Indian State.
The Adani Group's attempted takeover and corporatisation of India's agriculture was resisted by the iconic two million-strong farmers movement. If it had succeeded it would have led to acute impoverishment of small farmers, food shortages within the country and further acceleration of hunger and starvation deaths. As it is, under Modi, India's rating on the Global Hunger Index has dropped to abysmal levels lower than countries like Sudan and Rwanda while Adani has become the world's third richest man, gaining $61 billion so far this year.
The Director of the Science Museum Group, Sir Ian Blatchford, has justified sponsorship as a means to "engage and challenge companies and other partners to do more to make the global economy less carbon intensive". However there have been no challenges from the Science Museum Group, only a dramatic growth in their sponsorship by the fossil fuel industry while Adani is actually increasing coal extraction showing his total disregard for the relevant science.
For all these reasons we urge you to withdraw your support for the Science Museum Group and refuse to participate in the Lates event with its greenwashing of climate crimes and whitewashing of grave human rights abuses.
Best wishes,
Anand Patwardhan, Filmmaker, India
Julie Christie, Actor, UK
Ken Fero, Filmmaker, UK
Anupam Roy Visual Artist, India
Ruhi Hamid, Documentary Filmmaker, UK
Dilip Mehta, Filmmaker, India and Canada
Mukhtar Dar ( Artistic Director- Kalaboration Arts) UK
Shailja Patel, Playwright, Poet, Kenya
Fahim Qureshi Creative Producer & Art activist ( Luton Mela )
Dr. Vinit Bihari Artist and Lecturer Chitkara University, India
Chaiti Nath, Artist and Art Historian, Vishva Bharati University, India
Sonali Bhattacharyya Writer, UK
Samantha Asumadu, Writer, UK
Monoj Mondal, Digital Artist, India
S. Chandramohan, Poet, India
Hywel Morgan, Actor, UK
Rez Kabir, Actor, Director, UK
Nina Ashton, Musician, UK
Amrit Wilson Writer, UK
Philippine Velge – Actor, UK
Professor Anandi Ramamurthy
Professor Shakuntala Banaji, LSE
Professor Hakim Adi University of Chichester
Professor Navtej Purewal, SOAS
Professor Virinder Kalra, Warwick University
Professor Elke Krasny, Academy of Fine Arts Vienna
Professor Ben Rogaly, University of Sussex
Professor Firoze Manji, Carleton University, Canada
Professor Dibyesh Anand, Westminster University
Professor Meena Dhanda, Wolverhampton University
Chris Roberts, Emeritus Professor, University of Manchester
Akash Poyam, Asian College of Journalism,Chennai, India
Dr Kalpana Wilson, Birkbeck, University of London
Aidan Jolly, Theatre Worker and Researcher UK
Dr Milly Williamson, Goldsmiths, University of London
Dr Rumana Hashem, Nottingham University
Marcy Newman, educational consultant
Dr Teresa Wilkie, Nottingham University
Ananya Wilson-Bhattacharya, writer and editor, UK
Tanya Singh, Filmmaker, UK
Dr Rajesh Patel, Huddersfield University
Dr. Shahid Abusalama, Sheffield Hallam University
Dr Jenna Ashton, Manchester University
Dr John Piprani, Manchester University
Darren Tolliday, Artist, UK
Claire Louise Dixon, Artist, UK
Chryssy Hunter, London Metropolitan University
Lotika Singha, Independent scholar, UK
Shiraz Durrani, writer and publisher, UK and Kenya
M Ghazali Khan, writer and journalist, UK
Avik Debdas, Artist and Researcher, India
Anondo Goldar Artist and Art Educator, India
Sambaran Das, Artist, India
Rajesh Deb, Artist, India
V B Harilalkrishnan, Creative designer, India
Ranjan Kaul, visual artist, writer, India
Dr Shivani Nag , Ambedkar University, India
Aman Negi Artist, India
Imon Chetia Phukan, Artist, India
Tish Turl, Writer, UK
Monoj Mondal, Digital Artist, India
Sanjib Mondal, Artist, India
Aakshat Sinha, Artist, India
Ritaban Ghosh; Artist, India
Vinay Seth, Visual artist, editor @ Desee Art India
Adam Turl, artist and editor at Locust Review,Uk
Navid Tschopp, artist, UK
Sue Piper, Head of Education. Prior Court, UK
Narendran Nair, Artist, India
Dr. Rosemin Najmudin, Writer, UK
Sampurna Pal , Visual Artist, India
Shibayan Halder, Artist, India
Ajith Nedumangad, visual artist, India
Shanmukh Gollu. Visual Artist.
Albert Jacob Aji, Artist, UK
Sarah Beddington, Artist and Filmmaker, UK
Tajender Sagoo, Artist.UK
Tariq Mehmood, Writer, UK
Kausikan Rajeshkumar, Pianist and Composer, UK
Reena Jaisiyah, Caste Away Arts, UK
Jatin Vaghela, Artist, UK
Sarbjit Johal, Artist, UK
Georgie Wemyss, University of East London
Anushka Rajendran, Curator, India
Dr Alessandra Mezzadri, SOAS
Moonis Visual artist, India
Dharmendra Prasad, Artist, India
Nityanand Gond , Artist, India
Megha Sreyus, Art historian India
Subhankar Sengupta, Photographer, India
Dr.Rashmi Varma, Warwick University
Rahul Jain Filmmaker, India
Dr Penny Vera-Sanso, Birkbeck, University of London
Sanaz Raji, Independent Scholar
Vidya Dinker writer, journalist
Dr Subir Sinha, SOAS, University of London
Saqib Deshmukh, Writer, UK
Furqan, Journalist and Filmmaker, UK
Noor Zaheer, Writer, UK
Dr Alice Tilche, Lecturer, Leicester University
Devang Anglay , Visual Artist, India
Dr Fatima Rajina, lecturer, De Montfort University
Bajrang Bihari, Writer, India
Shweta Asvin, Artist, India
Marcus Bernard, Creative Producer, UK
Divya Ghelani Writer, UK
Yasmin Whittaker-Khan , Music Impresario, UK
Dr Annapurna Menon, Westminster University
Babar Luck, Musician, UK
Dr Paul Kelemen retired academic Sheffield University
Dr Rinella Cere , Sheffield Hallam University
Dr Gholam Khiabany, Goldsmiths, University of London
Freny Manecksha, Writer, India
Dr Tom Wakeford, Researcher, Exeter University
Jan Birch writer and charity worker, UK
Ananya Rao-Middleton, Illustrator and Disability Activist,
Vrinda Gopinath, Writer and journalist, India
Goldie Osuri, Warwick University
Malika Das Sutar, Artist, India
S.Vidyun, Artist, India
K.C.Nikhil, Artist, India
N.R.Jitinlal, Artist, India
Soumen Bhowmick Artist, India
Dr Akanksha Mehta, Goldsmiths, University of London
Emily Ross, Musician, UK
Ranjeeta Kumari, Artist, India
---
Image (C) Crispin Hughes