September 20, 2022
Posted by:

kevbha

Category:

News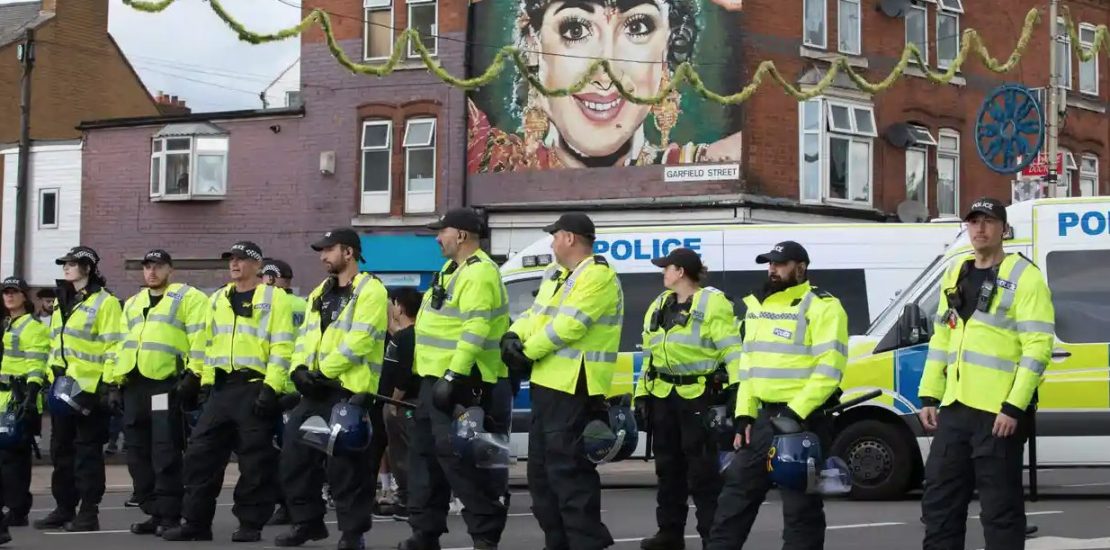 Amrit Wilson
On 17 September, hundreds of masked and hooded men, some with weapons, marched through a largely Muslim area of Leicester, UK, shouting the slogan of 'Jai Shri Ram!' which, as everyone in the UK's South Asian communities knows, is used in India by the RSS foot soldiers as they attack Muslims. There are reports that the march was planned in advance and that men were brought to Leicester from Birmingham, Wembley and Harrow in London, and elsewhere in coaches, and that in the days prior to the demonstration Hindutva activists from these other cities had been giving street-fighting training to Hindus from Leicester.
There is evidence too that Islamophobic, far-right UK groups, among them Britain First, the English Defence League and the Progressive Alliance, also took part in Saturday's march. This was the latest of a series of attacks on Muslims in Leicester which predate the violence following the India-Pakistan cricket match at the end of August.
Earlier in the same week following a vigorous campaign by human rights organisations the notorious hate preacher Sadhvi Rithambara, had been forced to cancel her speaking tour to temples in various cities in the UK. She had claimed 'ill health' but this had come in the wake of US campaigners getting her de-invited by a Church in New Jersey where she was due to speak.
The events in Leicester have not happened out of the blue either, but are inextricably linked with the history and growing strength of global Hindutva. Back in 1947, possibly in pursuit of Akhand Bharat, the RSS set up one of its earliest, and in hindsight, most fruitful overseas wings, the HSS, in the heart of the Hindu immigrant community in Nairobi, Kenya. The Nairobi branch launched Shakhas to teach the RSS version of Indian culture and history, provided physical training and organised Satsanghs. The Gujarati community, who were mainly from a rural background, were easily influenced, eager as they were, like many immigrants, to set in stone the deeply conservative traditions they had brought with them.
In 1966, under instructions from M.S. Golwalkar himself, an HSS office was also set up in London. HSS records tell us that the new branch struggled for members until the arrival of East African Asians expelled from Kenya, Uganda, Tanzania and Malawi as a result of Africanisation policies in those countries. By the end of the 1960s Shakhas had sprung up in cities like Leicester, Birmingham, Bradford and in Harrow and Brent in London where the refugees had settled.
The new communities had brought with them the RSS view of the world with all its deep rooted casteism and Islamophobia, alongside an intense racism against people of African origin, which came from their intermediate position in the rigid racial hierarchy of Britain's East African colonies. When they entered Britain, however, they faced blatant racism. Their passports were at first not considered sufficient for entry into the UK and some were rendered stateless. Stripped of their wealth and status, the men tried, often unsuccessfully, to get white collar work, while the women, who had rarely worked outside their homes and communities, were forced to take up the lowest paid, most unpleasant jobs in small factories and sweatshops simply to make ends meet.
Outraged at their exploitation as low-paid workers in Britain, they fought back, their anger sparking and sustaining a number of historic strikes often led by women.
Through this whole period, however, these self-identifying workers were in no way left wing, but Hindutva ideologies remained rife in their communities. Many of them had never lived in India but had fallen in love with the image of India being projected by the HSS and its cohorts.
In the 1980s and 90s, the Hindutva groups were further strengthened by the British state's strategies of multiculturalism and later of promoting 'faith communities'. These strategies of social control, which provided state funding to the most reactionary and conservative self-styled 'community leaders' within racialised minority communities, brought them recognition and resources from local councils, and they flourished as never before.
They systematically set up, or took over, a host of organisations in the UK, including the Hindu Council UK; the National Hindu Students Federation; the National Council of Hindu Temples; and the charity Sewa International, which was exposed in 2002 for channelling funds to organisations which carried out violent communal attacks in Gujarat.
As years passed a new generation of East African Gujaratis born in Britain emerged. Today, many are suave business people and financial analysts, essentially the hyper-neoliberal face of Hindutva in Britain – less well-known Priti Patel and Rishi Sunak-type figures.
Against a background of Modi's deepening relationship with Israel, these members of the Hindu right have been urging the Indian Government to copy Israel's strategies – and not only militarily in Kashmir but globally. In the UK, just as Israel and its partisans have made it impossible to criticise Zionism or Israel without being dubbed antisemitic, the Hindutva brigade have been trying, for some years, to establish the notion that all criticisms of Hindutva are 'Hinduphobia'. Back in 2014, for example, hedge fund manager Alpesh Shah wrote an open letter to Modi, urging him to make it the business of India's Government to look at how Hindus are treated worldwide. "This doctrine is not novel in international relations," he said. "The people of Israel provide protection for Jews wherever they are in the world, of whichever nationality. We shall extend no less protection to Hindus."
The assumption central to Shah's letter is, of course, that Hindus are under attack.
Meanwhile, the communities themselves have undergone change. While the descendants of the Indian migrants from East Africa have become largely affluent Conservative voters, there are now a new generation of people migrating directly from India to meet the needs of the UK's exploitative gig economy and work in its small unregulated factories. Leicester has seen an influx of mainly Hindu immigrants from Daman, who, by virtue of their dual Indian and Portuguese citizenship, have come to the UK via the EU.
Whilst some of these immigrants from Daman may well have been influenced by Hindutva propaganda in India, they are often extremely poor. As new immigrants, they face intense racism, violence from far-right groups, and are looked down upon by the earlier immigrants who faced similar racism on coming from East Africa some fifty years ago. In the present situation they are clearly being used as cannon-fodder by the RSS in their project of creating communal violence in the UK and in the process 'proving' the existence of Hinduphobia to strengthen Hindutva in India and internationally.
As many in Leicester note, despite the earlier activities of the pro-Hindutva groups, the city remained peaceful with day-to-day interactions between Muslims and Hindus being harmonious. They say that what is happening now is a new phase of RSS activity. While old activities like fundraising, building and strengthening Shakhas, influencing both Conservative and Labour parties and making online threats against anyone who does not agree with them continues, the new aim of provoking communal conflict may well take centre stage if the trial balloon in Leicester works according to plan.
Currently Leicester is on a knife edge with progressive Hindu and Muslim organisations calling for peace, and a peace and unity protest being organised outside the Indian High Commission in London on 22 September, demanding an end to BJP/RSS hate-mongering and interference in South Asian communities.
This article appears in the October issue of the CPI (ML) magazine Liberation.
For more about the growth of Hindutva in the UK see From Nagpur to Nairobi to Neasden – tracing global Hindutva – IHRC
The New Strategies of Hindu Supremacists in Britain – Byline Times
Image – Police block Belgrave Road, Leicester. By Andrew Fox/The Guardian