January 28, 2016
Posted by:

admin

Category:

News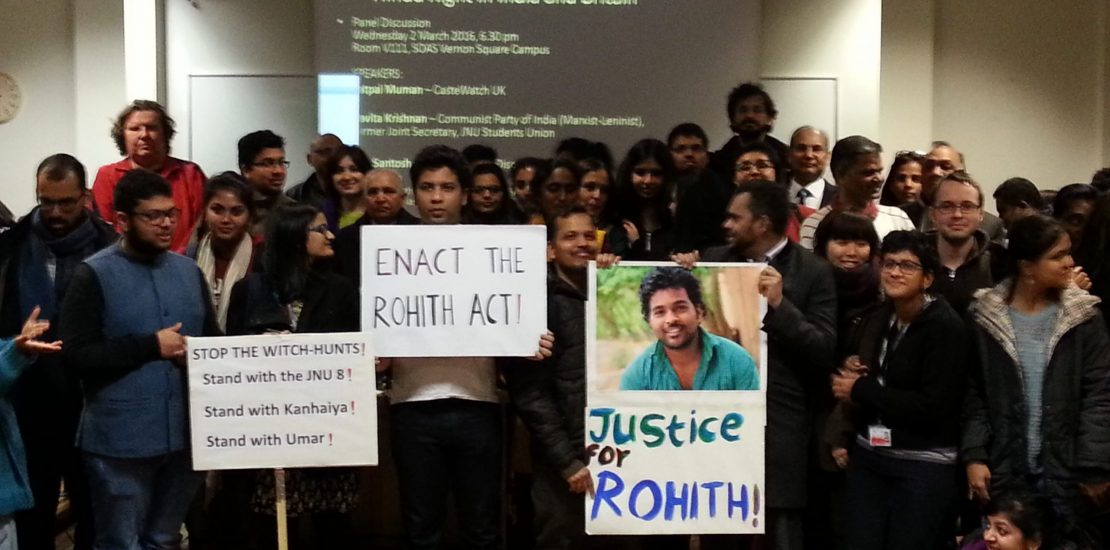 M Ghazali Khan

LONDON — Representatives of rights groups, Indian diaspora and Dalit organizations marked India's Republic Day eve by holding a candlelit vigil outside the Indian High Commission in London.
A press release issued by the South Asia Solidarity Group described the vigil as a display of solidarity with the hunger-striking students of the University of Hyderabad and other places across India against the "institutional murder of Dalit research scholar Rohith Vemula by university authorities and Indian cabinet ministers."
Holding banners, portraits of Rohith Vemula and Dr Ambedkar and candles in their hands and raising placards participants braved windy and cold weather and stood in a sombre silence in front of the High Commission from 16.00 till 19:00.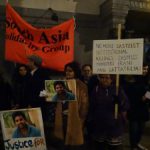 Captions on the placards read, "Manusmriti to Smriti Irani Hindutva Tyranny Continues"; "Justice for Rohith!"; "Dalit Lives Matter"; "No More Institutional Casteist Killings!"; "Modi's Ministers Smriti Irani and Bandaru Dattatreya Must Be Dismissed!" and "Bring Casteist VC Appa Rao Podile to Justice!"
A letter addressed to Prime Minister Narendra Modi and signed by the representatives of participating organizations was also handed to the High Commission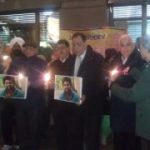 demanding the dismissal of HRD Minister Smriti Irani and Labor Minister Bandaru Dattatreya who, it said, "instituted a witch hunt against Dalit students at the University of Hyderabad and whose actions and interventions pushed Rohith Vemula to despair and suicide."; dismissal of and action against Hyderabad University Vice Chancellor Appa Rao Podille. Demand has also been made for urgent and effective measures to end "the institutional discrimination against Dalits in Indian institutions of higher education."
Full text of the letter signed by the representatives of participating organisations reads:
Dear Prime Minister Modi,
We are deeply disturbed and saddened to hear of the death of Dalit research scholar Rohith Vemula in the University of Hyderabad and are writing to urge you to
Dismiss the members of your cabinet HRD Minister Smriti Irani and Labor Minister Bandaru Dattatreya who instituted a witch hunt against Dalit students at the University of Hyderabad and whose actions and interventions pushed Rohith Vemula to despair and suicide.
Dismiss and bring to justice all those at the University of Hyderabad including the Vice Chancellor Appa Rao Podile, whose blatantly casteist action (and inaction) has led to the death of this promising young scholar.
Take urgent and effective measures to end the institutional discrimination against Dalits in Indian institutions of higher  education                                                                                                                                                                                        We would like to remind you of the facts of the case.
The Ambedkar Students Association (ASA) of the University of Hyderabad had held a protest against the disruption by the BJP's student wing, the ABVP, of the screening in Delhi University of a documentary film on communal violence in Muzaffarnagar, UP.
Subsequently, Rohith Vemula and four other members of the ASA were falsely charged with having attacked an ABVP leader. A Proctorial enquiry then found that there was neither medical evidence nor security staff testimonies which supported accusations against the students. But under pressure from a BJP Member of Legislative Council Ramachandra Rao, the students were suspended. However, the then Vice Chancellor revoked the suspension and promised a fresh enquiry.
At this point Labor Minister Bandaru Dattatreya intervened to write to Smriti Irani the Minister for Human Resources and Development (MHRD) accusing the ASA of 'casteist, extremist and anti-national' activities for organising a protest against the death penalty for Yakub Memon – an absurd accusation which suggests that an entirely legal protest in a country which claims to be a democracy is 'anti-national'. The minister also falsely claimed that an ABVP leader had been attacked when he protested against this event.
In response to this letter, Smriti Irani unleashed a witch hunt against the students sending the University no less than four letters in three months demanding that action be taken to curb 'anti-national' activities on campus.
Following this the University reversed the former Vice Chancellor's decision to revoke the suspension of the five Dalit students (including Rohith) and instead issued an official order subjecting them to what amounted to a blatantly casteist social boycott evoking the horrors of 'untouchability'. They were barred from accessing the library, and other common places, from contesting students' union elections and even excluded from their hostels.
Some weeks before his suicide, Rohith had written to the new Vice Chancellor, Appa Rao, saying that if he could not protect the rights of the Dalit students facing political victimization, the University should just provide suicide ropes in every Dalit student's room. Instead of acting with urgency over this desperate cry for help from Rohith Vemula, the Vice Chancellor deliberately ignored it.
Mr Modi, despite your silence on the issue of caste, you cannot be unaware of the deep-seated hostility and injustice faced by students from Dalit and other deprived backgrounds in India's universities, that, for example, as a 2013 fact-finding report documents there were 24 student suicides in various colleges in Hyderabad alone even up till 2013; or that the Andhra Pradesh High Court, acting on a Public Interest Litigation, had recommended several short- and long-term measures to counter the systemic hostility and caste discrimination faced by Dalit students.
We are shocked that colleges and Universities in Andhra Pradesh have largely ignored these recommendations.
This callous discrimination and hostility is, however, not limited to Andhra Pradesh. In the last four years, it is estimated that 18 Dalit students committed suicide in the country's higher education institutions. In 2007, the Thorat Committee had found evidence of open and blatant caste discrimination and violence against Dalit and adivasi students in AIIMS. Students who battle caste discrimination and arrive at the halls of higher education are humiliated, demoralized, declared academically 'unfit' – and the epidemic of suicides continues while the various corrective recommendations gather dust.
We are also deeply concerned that your government in Delhi is systematically intervening in educational institutions to harass scholars, particularly Dalit scholars who express dissenting views while remaining silent at the violence and vandalism of the ABVP.
This has happened not only at UoH but at the IIT Madras where the HRD Ministry stepped in, for no apparent reason, citing anonymous letters accusing the Ambedkar Periyar Study Circle APSC of inciting hatred against the Modi government and this led to the APSC being derecognized. We are shocked to note that the HRD minister has acted in these instances more like the agent of a dictatorship crushing dissent, and not a minister in a democratic country.
On the eve of Republic Day and the anniversary of the adoption of the Constitution drafted by Dr BR Ambedkar, the suicide of Rohith Vemula and the shocking events which led up to it stand as a stark reminder of the continuing systematic violations of the principles of equality and justice enshrined in the Constitution. We call on you Mr Modi to take the strongest possible action to address these deep-rooted institutionalised injustices and to dismiss your own Ministers who have blatantly subverted democratic processes in this case.
Satpal Muman (CasteWatchUK)
Amrit Wilson (South Asia Solidarity Group)
Ravi Kumar (Anti Caste Discrimination Alliance)
Santosh Dass (Federation of Ambedkarite and Buddhist Organisations UK)
Jograj Ahir (Shri Guru Ravidass Sabha, Southall)
Ramesh Klaire (Shri Guru Ravidas Global Human Rights Organisation UK)
Tersem Lal (Sri Guru Ravidass Sabha UK, Europe And Abroad)
Eugene Culas (Voice of Dalits International)
Ananya Rao-Middleton (Cambridge South Asia Watch)
Shruti Iyer (King's College London Feminist Society)
(This article first appeared in the Caravan Daily, 25 January 2016)